No rice crisis in country
PM blames dishonest traders, flashfloods for price hike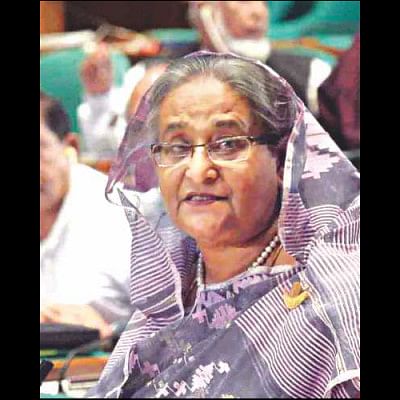 Prime Minister Sheikh Hasina yesterday blamed a vested quarter of dishonest businessmen and sudden flashfloods in the haor regions for the recent hike in rice prices.
Taking part in the budget discussion in parliament, she said there would be no rice crisis in the country as there was a stock of 1.06 crore tonnes.
There was 54 lakh tonnes of rice in the government-approved silos, 1.88 lakh tonnes in government silos and 50.3 lakh tonnes with farmers, rice millers and unapproved silos, the PM added.
About the modernisation of Qawmi madrasa curriculum, Hasina said, "Madrasa students are also our children…. We don't know what they are learning and what certificates they are getting. They are not respected in the society. So we have taken steps to modernise the Qawmi madrasa education."
QUESTION-ANSWER SESSION
Replying to lawmakers' queries, the leader of the House said terrorism and militancy were big barriers to the country's development and security.
In a scripted answer, she said Bangladesh was a country of religious harmony and its people hated communalism and militancy.
"After returning to power, the Awami League government took a zero-tolerance policy against militancy. Bangladesh is now considered a role model in eliminating militancy through effective steps and planning."
Elaborating on various steps of her government and their implementation, she said militancy was now under control.
"There is peace, discipline and stability at all levels of the society."
Responding to another query from a lawmaker, Hasina said the government planned to start the development work of 10 economic zones in the next fiscal year to boost investment and improve investment climate in the country.
The government planned to set up 100 economic zones and 22 of them were given permission. Besides, sites were selected for 59 economic zones, the premier told the Jatiya Sangsad.