Jamaat calls hartal as SC upholds Nizami's death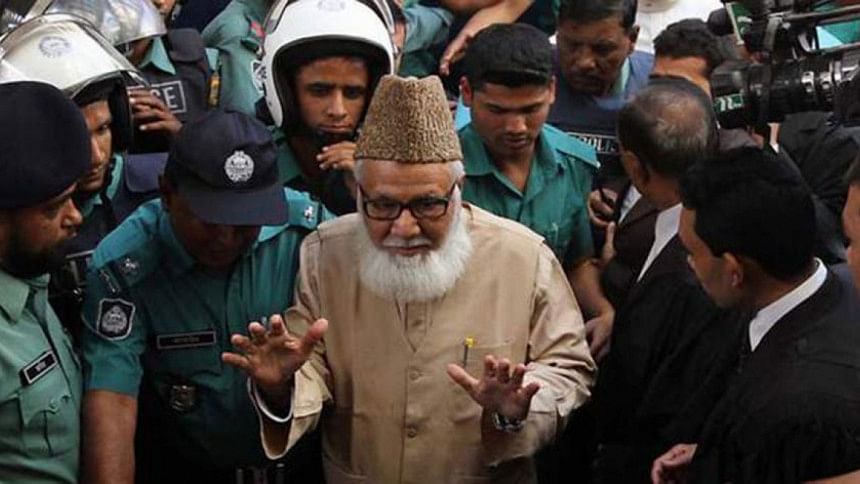 The Supreme Court today upheld the death penalty awarded to Jamaat-e-Islami chief Motiur Rahman Nizami for crimes against humanity committed during the country's 1971 War of Liberation.
Acquitting Nizami of three charges, the apex court found him guilty of five charges. The International Crimes Tribunal-1 earlier declared him guilty of eight charges, awarding him death for four charges.
Today, the SC upheld death penalty in three charges and acquitted for the other charge.
While pronouncing its verdict on October 29 last year, the special tribunal said that death will be the only fitting punishment for the horrendous crimes Nizami committed.
Protesting the verdict, Jamaat-e-Islami has called for a dawn-to-dusk countrywide hartal tomorrow.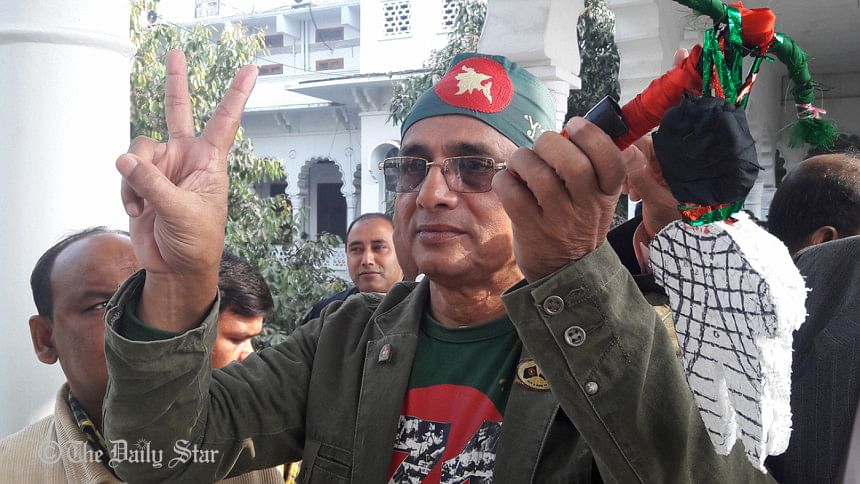 READ MORE: Death for death designer
Today, after the appeal procedure, a four-member bench of the Appellate Division upheld his death in three charges, life imprisonment in two and acquitted him in three other charges.
---
1. Death upheld in 3 charges: killing 450 people, raping of 32 women at Bausgari and Demra in Pabna, his involvement in murder of three people in Pabna's Dhulaura and for killing intellectuals.
---
2. Life imprisonment upheld in 2 charges: for killing Sohrab Ali and murdering freedom fighters Rumi, Bodi, Jewel and Azad.
---
3. Acquitted in 3 charges: Killing 11 and rape of 3 in Karmja, which he was originally given death for, and two others: torture and killing at Mohammadpur Physical Training Centre and killing of Kasim Uddin, in which he got life imprisonment for each.
---
While delivering the verdict, the top court did not mention its grounds of reaching this conclusion. It will be known after the full text of the judgment.
ALSO READ: Islam misused deliberately
Originally, the prosecution brought 16 charges of rape, murder, torture, genocide and other wartime offences during the nine month long bloody Liberation War.
Forty-three years later, justice caught up with him on October 29, 2014 as he was sentenced to hang for the crimes. The tribunal found him guilty of eight of the charges brought.
Quasem, a member of Jamaat-e-Islami central executive council, filed the appeal with the SC challenging the verdict delivered by the International Crimes Tribunal-2 on November 2, 2014.
This is the sixth time the Appellate Division delivered a verdict on an appeal against a war crimes tribunal's judgement.