UGC probe body visits BSMRSTU
Protest demanding VC's resignation continues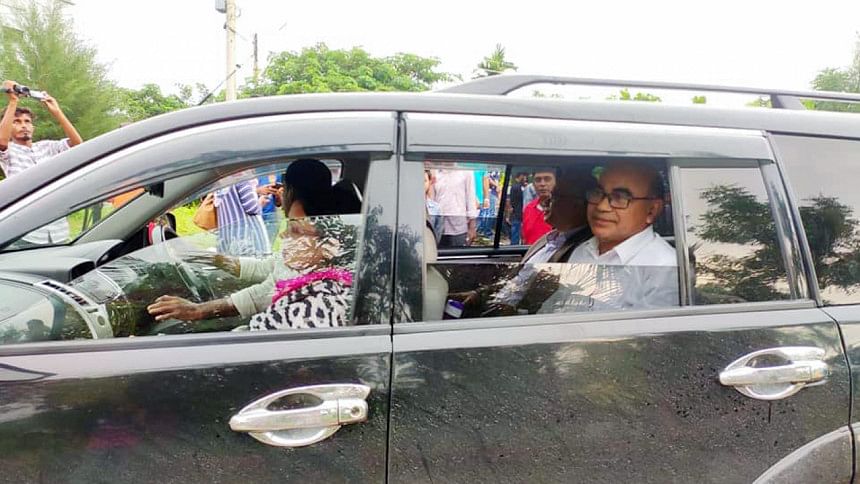 A four-member team of University Grants Commission (UGC) is visiting Bangabandhu Sheikh Mujibur Rahman Science and Technology University (BSMRSTU) today to investigate the overall situation on the campus.
The delegation led by Prof Dr Dil Afroza Begum reached the campus around 5:00 pm and talked with the protesters who were demonstrating demanding resignation of the university's Vice-Chancellor Prof Khondoker Nasiruddin, a UGC official told The Daily Star, seeking anonymity.
The protesters have been stating demonstration since September 18 demanding the VC's resignation for his alleged involvement in corruption and irregularities.
The team members will stay on the campus for the next two days.
During their visit, they will record statements of Fatema Tuz Zinia, the university correspondent of The Daily Sun, who was suspended on September 10 over a Facebook post. Later, the suspension was withdrawn amid countrywide protest.
They will also talk to VC Prof Nasir and other officials of the university. Later, they will submit a report to the UGC in this regard, the official added.
In another development, the students brought out a procession wielding brooms on the campus in the morning protesting remarks made by the VC during a private television channel interview yesterday.
The VC in the interview claimed the students in the name of their demonstration are staying on the campus overnight and engaging in indecent activities with the outsiders.
The protesters also held a press conference and termed the VC's statement false and fabricated saying that he wanted to divert their logical movement with his remarks.
However, they vowed to continue their sit-in and fast-unto-death programmes until their demand is met.
Yesterday, the protesters brought 14 specific allegations against the VC Prof Nasir including sexual harassment, nepotism in recruiting teachers and employees and corruption in development projects.
In the wake of their ongoing movement, the university authorities on September 21 declared a 10-day vacation ahead of Durga Puja.