Tonu killing: Strike called at all educational institutions Apr 3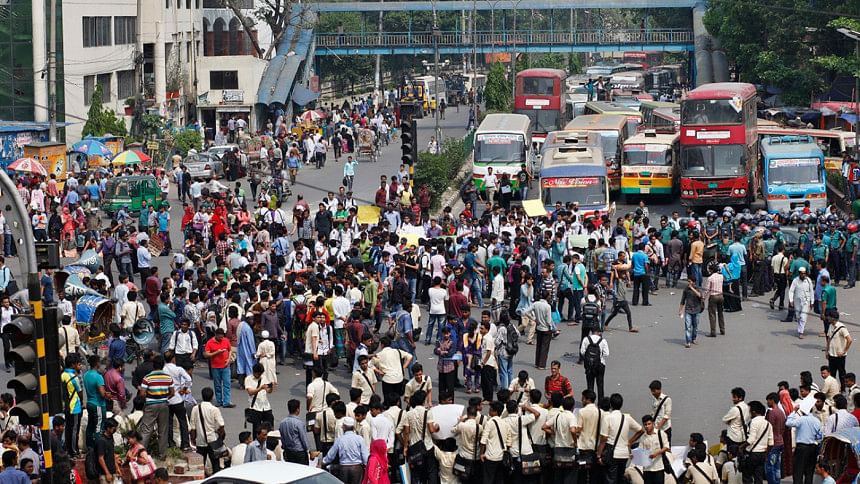 The students demonstrating at Shahbagh in Dhaka today called for daylong strike at all educational institutions on April 3 demanding punishment to Comilla Victoria College student Tonu killers.
Uzma Tazrin, a Dhaka University student, made the announcement at a demonstration staged at Shahbagh intersection this afternoon.
Hundreds of students from different schools, colleges and universities staged the demonstration around 1:00pm, halting all sorts of traffic movement through Shabagh intersection.
The agitating students took to the street along with placards, festoons and banners demanding immediate arrest and punishment of the killers of Tonu.
Earlier, a large number of Dhaka University students staged demonstration in front of Razu sculpture at TSC. Later, more people joined the protest programme.
To press home their demand, the protesters also brought out a procession that marched from Shahbagh to Karwanbazar.
Progressive Students' Alliance and Anti-Imperialist Students Union, comprising of 13 student organizations, also expressed solidarity with the strike.
Later, cultural activists of Sammilita Sangskritik Jote also staged a protest rally at TSC to realise the same demand.
Golam Kuddus, president of the cultural organization, said they would hold a demonstration at the same place on April 4, if their demand is not met by then.
They will also march towards the home ministry to hand over a memorandum to the home minister in this regard.
Meanwhile, activists of Chhatra Union brought out a torch processions at Shahbagh this evening demanding arrest and punishment of Tonu's killers.
Later, they also staged a brief rally in front of Razu sculpture at TSC.
The leftist student activists will march towards the prime minister's office on March 31, to press home their demands for arrest and punishment of the killers, Lucky Akter president of the student body, made the announcement at the rally.
Tonu, a second year history student of Comilla Victoria College and a member of Victoria College Theatre, was murdered near Comilla Cantonment area on March 20 night.
According to a press release of ISPR, the unconscious body of the 19-year-old college student was found in the bordering area of the cantonment by the victim's father and he informed the military police.
Right away, Tonu was taken to the Combined Military Hospital there and the duty-doctor declared her dead.
Tonu's father, Yar Hossain filed a killing case with Comilla Kotawali Police Station.
Meanwhile, different volunteer organisations in Laxmipur today formed separate human chains demanding immediate arrest and exemplary punishment of the killers.
The organisations arranged the human chains in different areas of Laxmipur town, including before Laxmipur Press Club and at Mandari Bazar, around 11:00am.
They demanded exemplary punishment to the killers.