3 'drug peddlers' killed in Jhenidah, Mymensingh 'gunfights'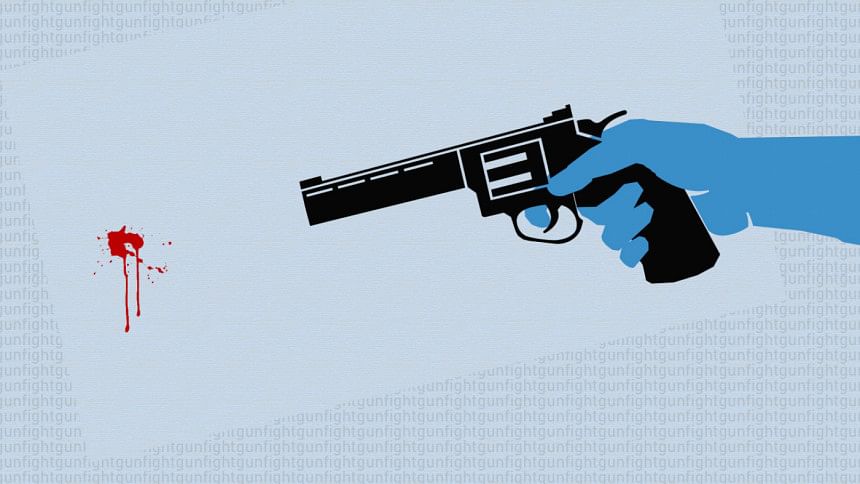 Three alleged drug peddlers were killed in "gunfights" with law enforcers in Jhenidah and Mymensingh districts early today.
Of them, two were killed in a reported gunfight with Rapid Action Battalion (Rab) members in Jhenidah while another killed in a "gun battle" with police in Mymensingh.
With the latest additions, at least 170 suspected drug peddlers have been killed since the anti-narcotics drive began on May 4. Most of the dead were killed in "shootouts" with police and Rapid Action Battalion.
In Jhenidah, two suspected drug peddlers -- Sajjadur Rahman,43, and Abdur Razzak, 34, -- were killed in a "gunfight" with Rab at Pabhati in the town during the wee hours, reports our local correspondent.
Senior Assistant Superintendent of Jhenidah Police Golam Morshed, also company commander of Rab-6, said as they had secret information that a group of drug peddlers were staying at a house at Pabhati village, a Rab team launched a drive there around 3:00am.
Sensing presence of the Rab members, the drug peddlers opened fire on the law enforcers, forcing them to fire back in self-defence, which triggered the "gunfight".
After the "gunfight", the elite force members rescued bullet-hit Sajjadur and Razzak from the spot and rushed to Jhenidah Sadar Hospital where doctors declared both of them dead. However, their cohorts managed to flee the scene.
Two Rab members -- Assistant Sub-Inspector Tarikul Islam and Lance Naik Saidur Rahman-- were also injured in the "gunfight", claimed the Rab official.
The elite force members recovered two guns, two bullets, 55 bottles of phensidyl and a motorbike from the spot.
In Mymensingh, Faruk Miah, 31, a suspected drug trader, was killed in a reported gunfight with police in Atharbari area of Ishwarganj Upazila around2:15am, reports UNB.
On information that a gang of drug traders gathered in the area over sharing drug money, a team of police conducted the drive, said Ahmed Kabir, officer-in-charge Ishwarganj Police Station.
Sensing presence of the police, the drug traders hurled brick chips and opened fire on them.
The law enforcers fired back, triggering the "gunfight", leaving Faruk injured with bullet.
Later, the injured was rushed to Mymensingh Medical College Hospital where doctors declared him dead.
Besides, in their anti-drug drives, police arrested 59 people from the district.