Thousands march in BNP's Independence Day rally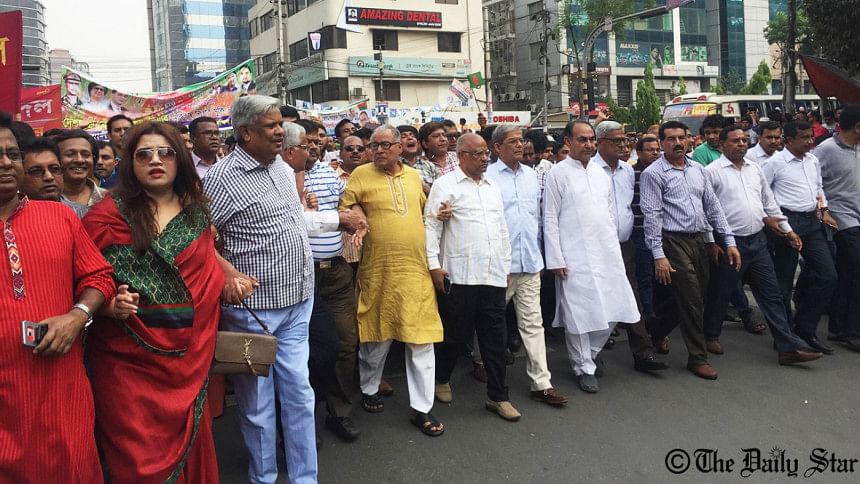 With a fresh vow to restore democracy, establish people's right and to ensure their party Chief Khaleda Zia's release from jail, BNP today brought out a procession in Dhaka in observance of the 48th Independence Day of Bangladesh.
Thousands of leaders, activists and supporters of different front and associate bodies of the party started gathering with small processions in front of its Noyapaltan central office since noon.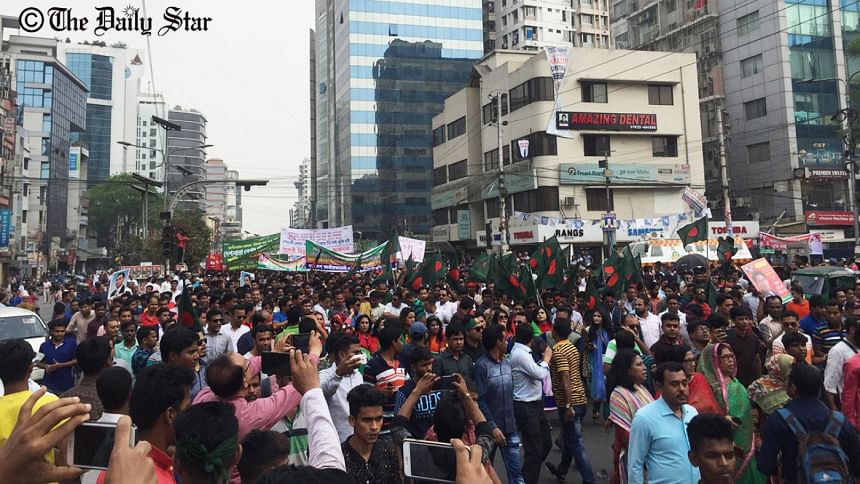 The BNP men joined the procession carrying the national flag, placards, banners, festoons and portraits of the party's top leaders including Khaleda Zia and Tarique Rahman amid huge presence of law enforcement agencies.
During the procession, they also chanted various slogans seeking Khaleda Zia's release and marched towards Shantinagr from Nayapaltan, led by their central leaders.
From the frontline, BNP Secretary General Mirza Fakhrul Islam Alamgir and some senior leaders like Mirza Abbas and Khandaker Mosharraf Hossain, led the march.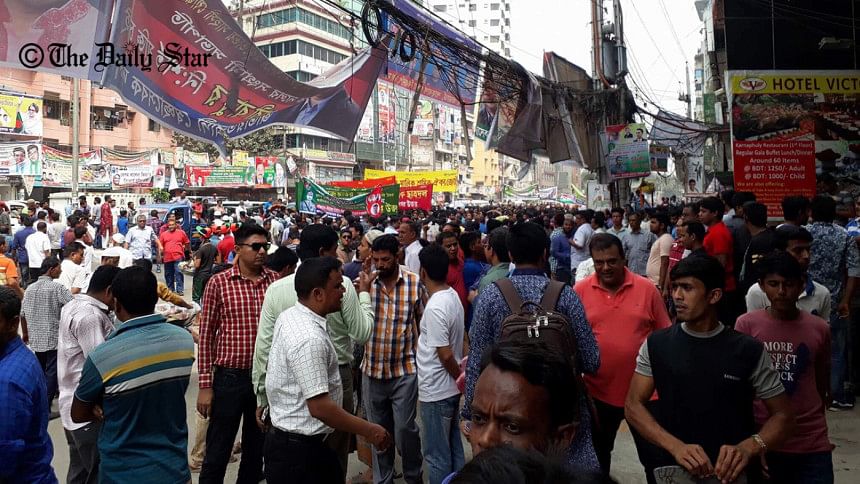 Fakhrul inaugurated the rally that ended at Nayapaltan after marching different streets including Kakrail and Shantinagar roads, creating acute traffic jam in Motijheel, Fakirerpool, Bijoynagar, Kakrail, Shantinagr and Malibagh areas.
In a brief speech before starting the procession, Fakhrul said the government has snatched people's rights and destroyed the country's democracy intending to hang on to power through establishing one-party rule.
"We fought the Liberation War to establish democracy but the government has destroyed it only to cling on to power through establishing one-party rule," he said.
He also underscored the need for holding of the next general election in a free, fair and inclusive manner under a non-party neutral government.
"Prime Minister Sheikh Hasina must resign and the current parliament will have to be dissolved before holding of the election," he added.
"We want people's peace, restoration of democracy and release of our party's leaders (Khaleda), who are now in jail and it's our vow on this occasion," Fakhrul said.
The party secured permission for the rally yesterday, when the country was celebrating its 48th Independence Day.