Indian govt cannot bypass West Bengal over Teesta issue: Sushma
She still hopeful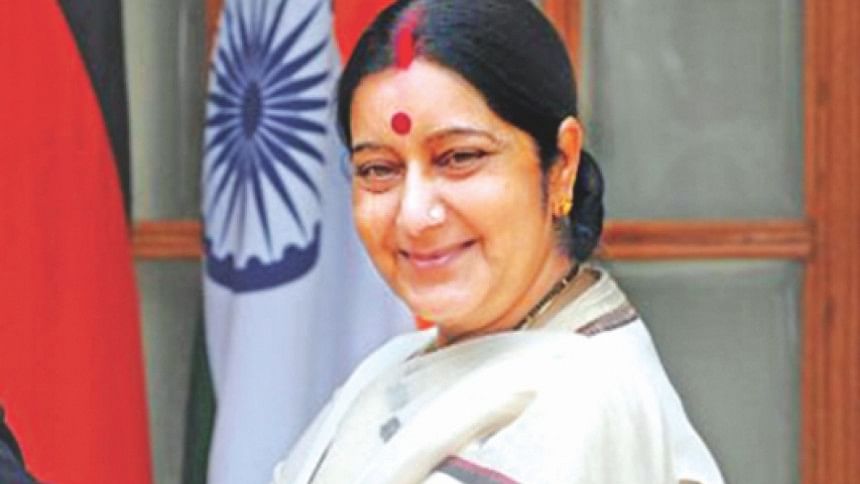 Indian External Affairs Minister Sushma Swaraj today said that her government is still hopeful about inking the Teesta River water sharing treaty with Bangladesh.
"Our government has completed four years in office and still has one year left. So, not reaching the Teesta treaty cannot yet be called a failure of this government," she told reporters when asked if the inability to sign the deal could be considered a failure of the Modi-led government.  
Swaraj was addressing a press conference in New Delhi on the achievements of the government in foreign policy in the last four years.
Asked about the outcome of Prime Minister Sheikh Hasina's talks with her Indian counterpart Narendra Modi and West Bengal Chief Minister Mamata Banerjee on May 25 and 26, Swaraj said Mamata in April last year gave an alternative proposal of supplying the waters of Torsa river, instead of Teesta, as West Bengal will suffer if Teesta water has to be shared.
Hydrology experts are still studying the feasibility of Mamata's alternative proposal and are yet to submit a report on it, she said. 
She said the federal Indian government cannot bypass the West Bengal government as it is the state which has to share the Teesta waters and has to weigh pros and cons of how much it will be affected by the proposed deal. 
"So, West Bengal and Chief Minister Mamataji have a role to play in this, which the central government cannot overlook," the external affairs minister remarked. 
Mamata has been opposing the Teesta deal since September 2011. She opted out of a trip with the then Indian PM Manmohan Singh to Dhaka to sign the treaty.
Mamata also repeatedly made it clear that she cannot ignore the interests of northern part of West Bengal while sharing Teesta water as it is the main lifeline in the northern region for irrigation, power generation and drinking. She argued that farmers in northern West Bengal will be severely hit if the Teesta's water flow comes down due to sharing as there are already a number of dams on Teesta.