Hope Teesta treaty, other outstanding issues are resolved soon: Hasina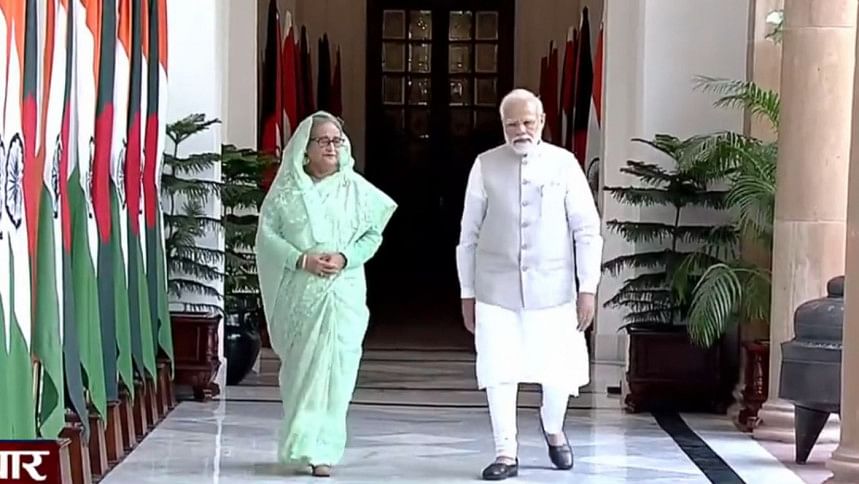 Prime Ministers Sheikh Hasina today (September 6, 2022) reposed full faith in the leadership of her Indian counterpart Narendra Modi in resolving the pending major issues, including the Teesta river water-sharing deal, between the two countries.
Making a statement to the media after nearly 90 minutes of delegation-level talks with Modi at the Hyderabad House in New Delhi, Hasina said "I appreciate the visionary leadership of Prime Minister Modiji that continues to provide added momentum to our bilateral relations."
Reiterating that India is "the most important and closest neighbour" for Bangladesh, Hasina said the two countries' bilateral relations are known to be a role model for neighborhood diplomacy, reports our New Delhi correspondent.
Noting that over the last decade, both the countries have achieved remarkable progress in a number of areas, she said, "I recall that the two countries have resolved many outstanding issues in the spirit of friendship and cooperation and we hope that all outstanding issues, including the Teesta water-sharing treaty, would be concluded at an early date."
"Today, I thank PM Modi to resolve the issue of Kushiyara. So, I am hopeful that for another 54 rivers we have. So, I know as long as Prime Minister Modi's is here, Bangladesh and India will resolve all this problem," asserted Hasina.
She said, "We focused on possible ways to materialise our commitment and accommodate each other's priorities in a mutually beneficial manner. Connectivity, trade and commerce, Investment, water resources management, security, border management and lines of credit are some of the areas we discussed."
"We are grateful for the valuable support extended by the government and the people of India in the great War of Liberation of Bangladesh in 1971, which was a watershed moment of our bilateral relations.," Hasina said.
Her remarks came after the two countries signed seven agreements and MoUs.