Tears, anger among BNP leaders in court after verdict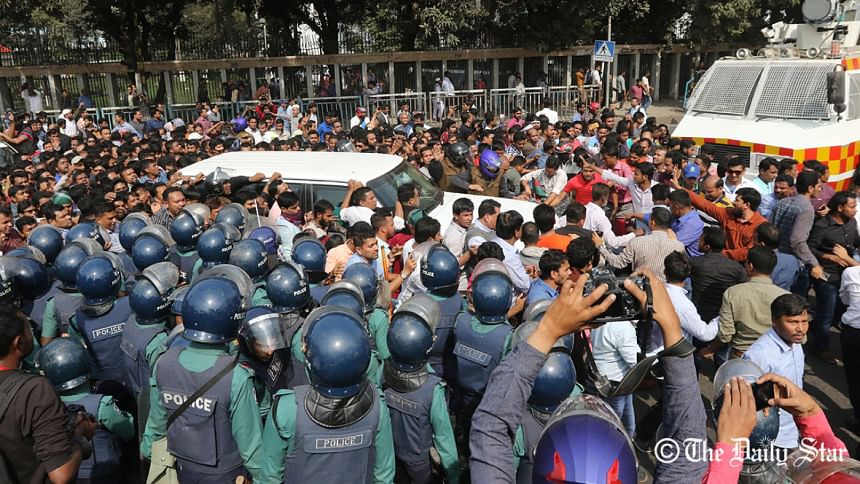 As Judge Md Aktheruzzaman of the Special Court-5 read out the verdict in the Zia Charitable Trust graft case, a sense of gloom and despair descended upon the BNP leaders and lawyers in the courtroom.
Many leaders present in the courtroom broke into tears, as the court sentenced BNP chief Khaleda Zia to five years in jail for misappropriating over Tk 2.10cr in the name of running an orphanage.
BNP Senior leaders and standing committee members present in the court room including Khandaker Mosharraf Hossain, Mirza Fakhrul Islam Alamgir, Nazrul Islam Khan and Amir Khasru Mahmud Chowdhury, all broke down into tears, our correspondent reports.

The verdict also resulted in anger among many of the BNP followers, as defense lawyers started shouting and expressing dissatisfaction over the verdict. The defence counsels immediately voiced their protest shouting "No, no, no it is a false case."
Anger and grief prevailed inside the court room where BNP Secretary General Mirza Fakhrul Islam Alamgir announced that the main motive of such verdict is to keep Khaleda Zia away from the upcoming election.

"The sole purpose of such verdict is to make sure the BNP chairperson cannot take part in the election" Fakhrul said immediately after the verdict.

Shamsuddin Didar, press wing member of Khaleda Zia, and other leaders also broke down in tears expressing uncertainty regarding the future of the party.