Talha conferred with Faraaz Hossain Courage Award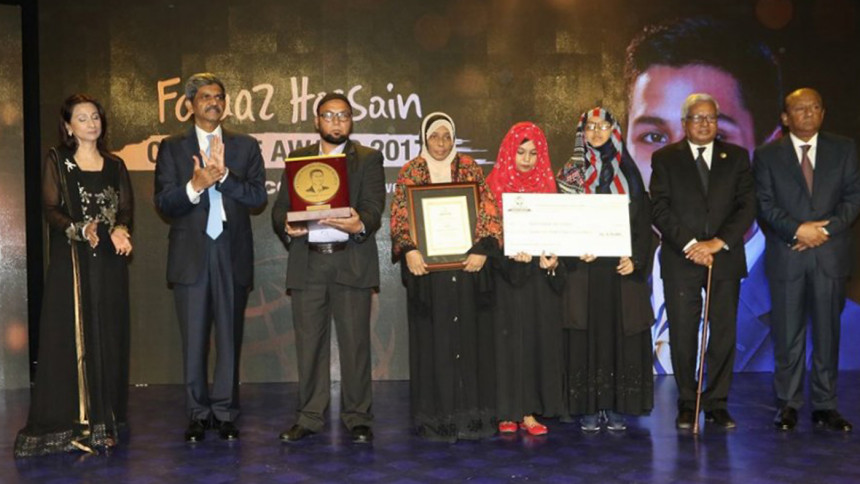 Daffodil University student Khondaker Abu Talha, who heroically gave his life trying to fight muggers in Dhaka, was conferred with "Faraaz Hossain Courage Award 2017" today.
He was conferred with the prize for his true courage and for standing up to protect fellow human beings facing extreme danger.
On the morning of October 8, at around 6:30am, Talha, a second year student of Daffodil International University (DIU) left home for his campus.
Just 100 meters away, he came across a rickshaw being hijacked by a group of miscreants. Without thinking twice, he stepped up to put an end to this violence. As Talha grasped one of the muggers, they stabbed him back.
He was bleeding profusely and was rushed to the hospital. The duty doctor at Dhaka Medical College and Hospital (DMCH) announced him dead around 8:15am.
Sir Fazle Hasan Abed, founder and chairperson of BRAC, and Shivakumar, Chairman and CEO of PepsiCo India, handed over the award, Certificate of Honour and the prize money  to Talha's father, mother and two sisters respectively at Dhaka Radisson Blu Water Garden Hotel in Dhaka.
Faraaz's grandfather Latifur Rahman, chairman of Transcom Group, mother Simeen Hossain, elder brother Zaraif Ayaat Hossain and other eminent personalities were present at the award giving ceremony.   
The award was introduced last year in honour of the great sacrifice and courage shown by Faraaz, who refused to desert his friends and was brutally killed by terrorists during the July 1 terror attack at the Holey Artisan Bakery in Dhaka.
The whole world has seen the demonstration of bravery and selflessness of 20-year-old Faraaz Ayaaz Hossain. His sacrifice has been lauded all over the world.
In recognition of such acts of courage, PepsiCo Global decided to launch the annual Faraaz Hossain Courage Award from 2016 by setting up a fund of $200,000. This will support a $10,000 prize to be awarded annually for the next 20 years.
The purpose of the award is to recognise acts of exceptional courage by individuals setting examples of empathy for fellow human beings, to encourage the spirit of bravery among Bangladeshi youth, the very spirit that Faraaz inspires.
The jury of the Faraaz Hossain Courage Award 2017 is comprised of Brac founder and Chairperson Sir Fazle Hasan Abed KCMG (jury chair), Bishwo Shahitto Kendro Chairman Abdullah Abu Sayeed, renowned Tagore exponent Rezwana Choudhury Bannya, Standard Chartered Bank CEO Naser Ezaz Bijoy, Metropolitan Chamber of Commerce and Industry- Dhaka President Nihad Kabir, American International School- Dhaka teacher Sabahat Jahan, PepsiCo Bangladesh Country Manager Manish Muley, Deputy CEO and Country Head of Commercial Banking, HSBC Mahbub Ur Rahman and Faraaz's grandfather Latifur Rahman, also chairman of Transcom Group.