SI breaches security at Dhaka airport
He boards int'l flight without travel docs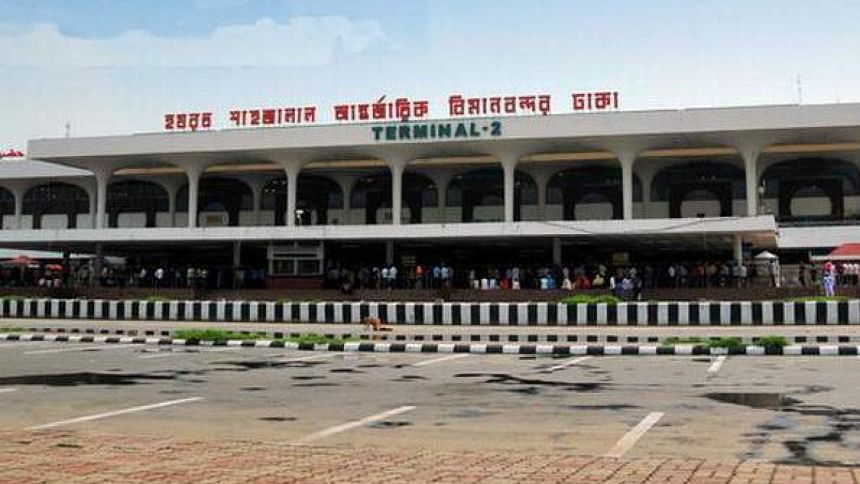 A police sub-inspector in uniform boarded a Bangkok-bound flight without any travel documents at Hazrat Shahjalal International Airport early yesterday, said airport officials.
The flight of Thai Airways was supposed to depart for Bangkok at 2:00am yesterday. It left the airport half an hour later when immigration police detained SI Ashiqur Rahman, of Dhaka range police, as he did not have passport, visa or ticket, said the officials.
He was later handed over to Dhaka range police.
The officials said Ashiqur entered the terminal through Heavy Luggage Gate-3. After completing the check, he went past the Immigration Gate-1. With the support of immigration police at that gate, he crossed the immigration and went to the Boarding Bridge-5 with his aunt.
The officials added that the security personnel at the gate thought that he was an immigration staff as he was in uniform.
How the police official crossed the checkpoint before boarding the flight could not be known, the officials said.
Contacted, Abdullah Al Mamun, deputy inspector general (Dhaka range) of police, said Ashiqur went to the airport to see his relative off.
Action will be taken against Ashiqur after Civil Aviation Authority of Bangladesh submits a report over the incident, he said.
This newspaper could not contact Ashiqur.
The DIG also said Ashiqur joined Dhaka range police on February 12. Before that, he was at the Police Bureau of Investigation.
Nur-e-Azam Miah, officer-in-charge of Airport Police Station, said he heard about the incident.
Police did not receive any written complaint in this connection, he told this correspondent last evening.