'Terminal 3 will offer same services as London's Heathrow or Thailand's airports'
State Minister for Civil Aviation says new terminal likely to open by Oct 2023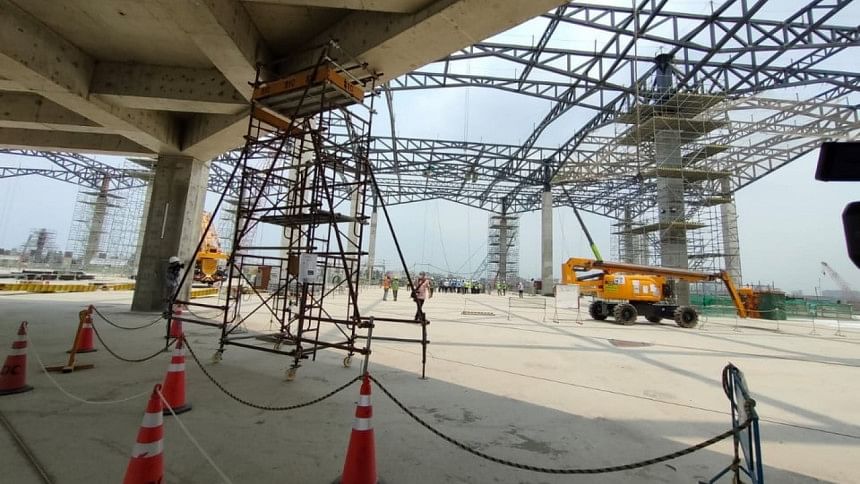 Construction of the third terminal at Hazrat Shahjalal International Airport in Dhaka is 1.9 percent ahead of expectations. The third terminal is likely to be inaugurated by October, 2023, State Minister for Civil Aviation M Mahbub Ali said today.
He was briefing reporters after visiting the construction site at Dhaka's Kurmitola area today.
The junior minister said 32.7% of the construction work of the world class third terminal was supposed to be completed by April 8. In reality, 34.6 percent of the construction work has been done by this time. The construction work will be completed within the stipulated time, he added.
Prime Minister Sheikh Hasina in December 2019 inaugurated the construction work of Terminal 3 which will cost Tk 21,399 crore. When the project was first conceived, its outlay was projected at Tk 13,610 crore.
Celebrated architect Rohani Baharin designed the terminal. Her other works include Changi International Airport's Terminal 3, Wuhan Tianhe Terminal 2, Guanghzhou Baiyun New International Airport, Ahmedabad International Airport, New Islamabad International Airport, Can Tho and Phu Quoc International Airports.
The three-storeyed terminal building -- over 2.30 lakh square metre -- will be built by Mitsubishi and Fujita of Japan and Samsung of South Korea.
It will have 115 check-in counters, 64 departure and 64 arrival immigration desks, 27 baggage scanning machines, 40 scanning machines, 12 boarding bridges, 16 carousels and 11 body scanners.
There will also be new car parking facility for 1,230 vehicles, a new 63,000 square metre import and export cargo complex, a 5.42 lakh square metre apron for 37 aircrafts, among others.
Around two crore passengers will be able to use Dhaka airport following construction of the third terminal, 70 percent of the funding for which is coming from the Japan International Cooperation Agency (Jica).
In its current form, Dhaka airport can handle eight million passengers a year. But the number of passengers is expected to reach 14 million by 2025 and 24.8 million by 2035, so the timing of Terminal 3 could not be more crucial.
Around 130 domestic and international flights -- including 26 operated by foreign airlines -- carrying 25,000-30,000 passengers use the airport every day.
The airport handles about 1.6 crore luggage every year of about 70 lakh passengers with the eight carousels in the two international terminals. In other words, it is already operating at full capacity.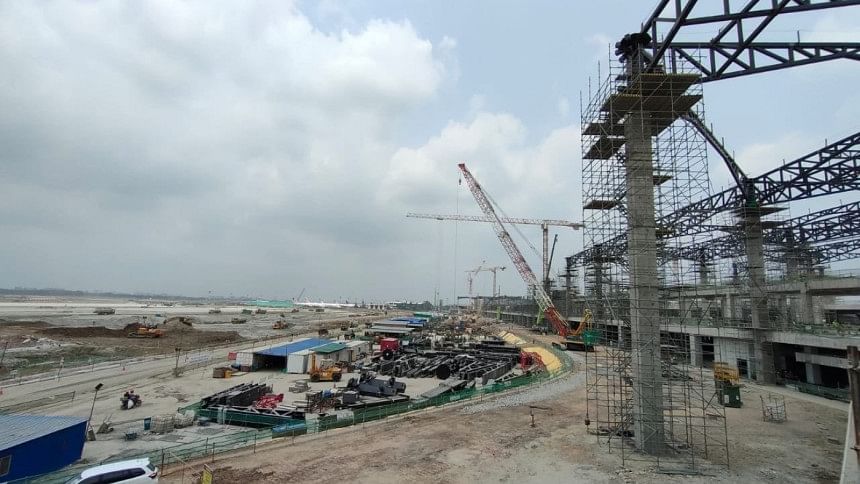 Briefing reporters, the state minister said, once the construction of the third terminal is completed, it will be possible to overcome the existing infrastructural limitations of the airport.
"Passengers at the third terminal will enjoy the same quality of service they get at London's Heathrow Airport or Thailand's airports," he said. "There will be no compromise with quality," he added.
In reply to a query, the state minister said, construction work of the taxiway at the terminal would be completed within early next month.
The taxiway will be connected to the existing runway. As a result, no aircraft will have to wait after landing at the airport, he added.
Regarding high fares to destinations in various countries, including the Middle East, the state minister said, "We have discussed the issue with the airlines. The problem of overpricing of air tickets is slowly being solved. The airfare will come down further in a month."
Regarding the upcoming Hajj, he said, around 30,000 to 50,000 Bangladeshis will be able to perform hajj from Bangladesh this year.