Satire: Waiting for Khaleda to join AL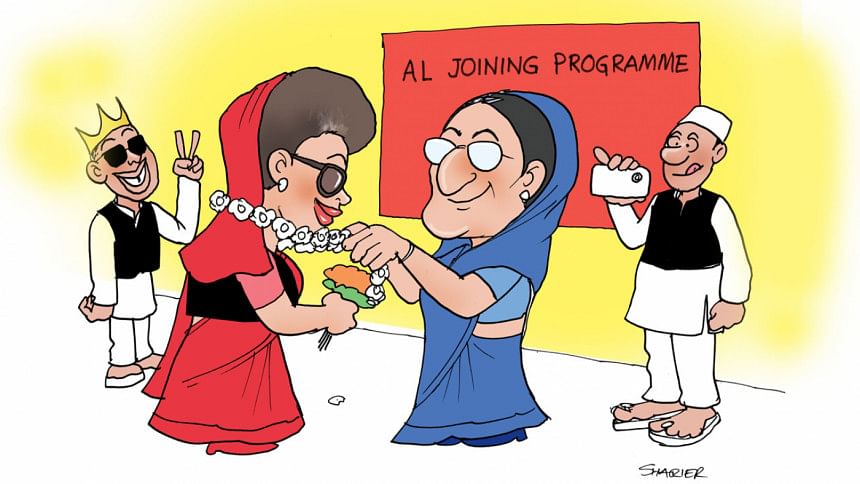 The ruling Awami League has finally found the ultimate solution to the country's political conflict: force the opposing BNP-Jamaat leaders to join the Awami League.
According to recent reports published in various newspapers, including The Daily Star, thousands of BNP-Jamaat leaders have joined the ruling Awami League in the last three months just to avoid political harassment and arrests under various cases.
At this rate, one may find BNP chief Khaleda Zia joining the ruling party someday soon, and then peace will reign in Bangladesh forever.
The Daily Star Wednesday reported that by coaxing as many opposition men as they can into joining the ruling party, it would cripple the BNP, especially in the districts that are deemed its stronghold.
Many of these BNP and Jamaat men stand accused in cases, mostly over violence. Others are facing harassment by the cops due to their political identity.
The AL sees nothing wrong with this exodus. Its Presidium Member Nuh-Ul-Alam Lenin was quoted as saying, "If any good organiser of the BNP comes to the Awami League, it will strengthen our organisation. But we have to be alert so that no one can do wrong things using the name of our party."
AL organising secretary Khalid Mahamud Chowdhury states, "Those who uphold the spirit of liberation and are not involved in war crimes can join the Awami League. I don't see any problem here."
The ruling party is not just putting pressure at the grassroots level of BNP-Jamaat, it is also putting heavy pressure at the top level. A couple of days ago, court issued arrest warrant against 28 BNP men including Rafiqul Islam Mia and Amanullah Aman for torching vehicles in Mirpur in January.
Prime Minister Sheikh Hasina said that the government was mulling special tribunal for quick disposal of cases against Khaleda for her instructions of arson attacks during anti-government demonstrations.
We seem to have already forgotten what has happened to BNP senior leaders Mirza Fakhrul Islam Alamgir and Salahuddin Ahmed.
Khaleda Zia is meanwhile having difficulties thinking out any political strategy to fight the ruling party. Her dependence on diplomatic pressure did not work; her non-stop blockade without peoples' participation brought shame on her party, and clearly she's not well connected with her own party leaders who are in complete disarray.
So what would be the best solution for BNP? It's best for her and her senior leaders to join the Awami League. It will be a win-win solution for both parties (plus Jamaat)—as they would get to have some pieces of power cake that the AL is having alone ever since 2009. For AL, there will be 'peace' in the country.
There will also be no difference of political ideology. There would not be any secular vs non-secular politics; pro-liberation vs anti-liberation issues; progressive vs fundamentalist issue. All ideals will merge into one -- make money and take it abroad.
Those whose brainchild is this amalgamation of BNP and AL men may meanwhile get Nobel Prize in Chemistry for successfully being able to mix oil with water (proven by the mixing BNP-Jamaat with the AL). They may also get a Peace Prize too by establishing political harmony through intimidation.
Later on, however, the BNP leaders who have joined the AL can stab the AL in its back at an opportune moment. It had happened before and it can happen again. Till that time, let us enjoy the political harmony.