Protest spreads outside Dhaka
Rail communication suspended between Dhaka-N'ganj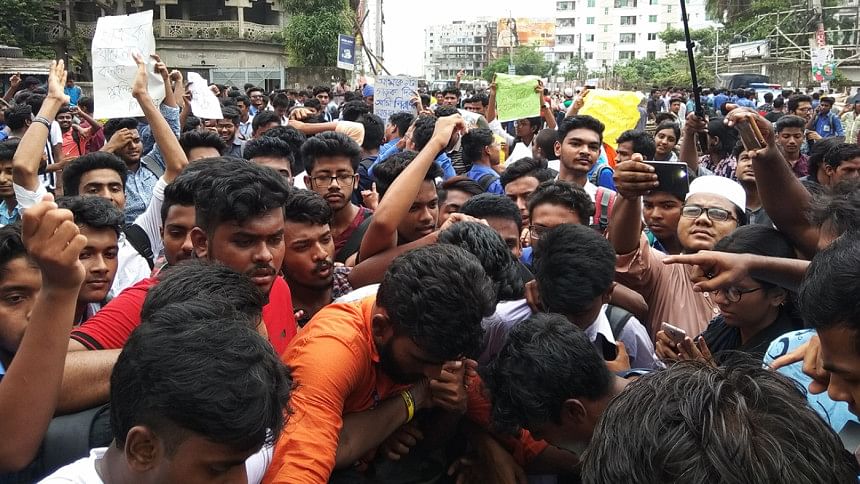 Students blocked roads in Narayanganj and Gazipur as protest over the demand for safe roads spread outside Dhaka today.
Train service between Narayanganj and Dhaka also remained suspended as students put barricade at Chasara rail station in Narayanganj from around 12:30pm to 3:30pm. 
They also halted a Dhaka-bound train, carrying around 500 passengers, at the station, said Ibrahim Mridha, station master of the station, told our district correspondent.
Meanwhile, agitated students of different schools and colleges took to the streets and blocked roads of different points in the district demanding justice for the deaths of two of their fellows on Airport Road last Sunday.
The students blocked Dhaka-Narayanganj link road, old Dhaka-Narayanganj link road and Narayanganj Adamjee-Simrail road, halting traffic movement, local correspondent reports quoting Kamrul Hossain, officer in-charge, Narayanganj Sadar Model Police Station.
Students of Narayanganj Govt Tularam College, Narayanganj college, Narayanganj women college, Narayanganj model college took part in the protest.
In Gazipur, students of EH Arif College put up barricade at Konabari on Dhaka-Tangail highway at 10:00am, disrupting vehicular movement, according to UNB.
Besides, students of different schools and colleges took position and staged demonstrations in College Gate area on Dhaka-Mymensingh highway demanding safe road.