Bus owner, driver killed in Savar road crash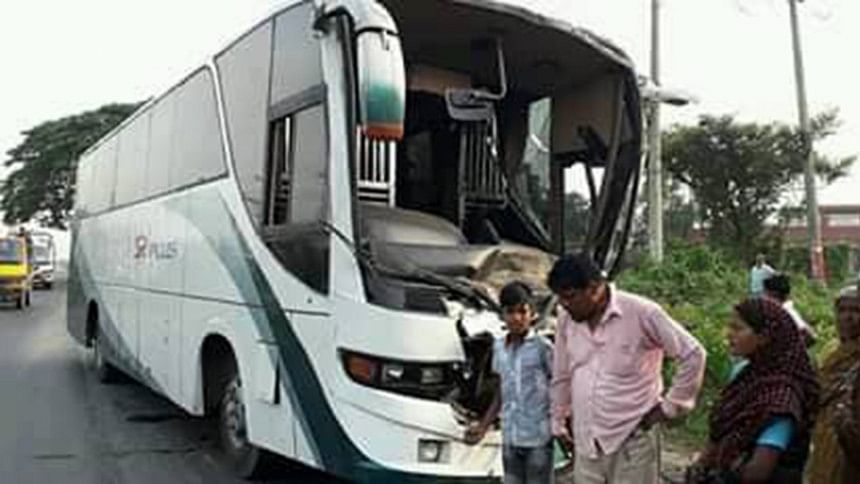 The owner and driver of a bus were killed after being hit by another bus in Savar, on the outskirts of Dhaka, early today.
The deceased were identified as Abdul Jolil, 33, owner of the bus of Ahad Paribahan; and its driver Zahangir Alom, 32, our Savar correspondent reports quoting Mojibor Rahman, officer-in-charge(OC) of Salna Highway Police Station in Gazipur.
The accident took place in Kabirpur area on Nabinagor-Chandra highway around 5:00am, said Jahangir Alom, senior station officer of DEPZ Fire Service and Civil Defence.
A bus of Ahad Paribahan rushed to the spot to tow away another bus of the company, which broke down on the highway earlier, said the fire service official.
Abdul Jolil and driver Zahangir Alom were tying the broken-down bus with the other bus when a Dhaka-bound bus of SR Plus Paribahan hit the duo, leaving them dead on the spot, the fire service official said.
Two passengers of SR Plus Paribahan were also injured in the accident, he added.
The bodies were sent to a local hospital for autopsies, said OC Mojibor Rahman.
The buses involved in the accident were seized but the helper and driver of SR Plus Paribahan managed to flee, he added.