Rajon, Rakib killings: Death references at HC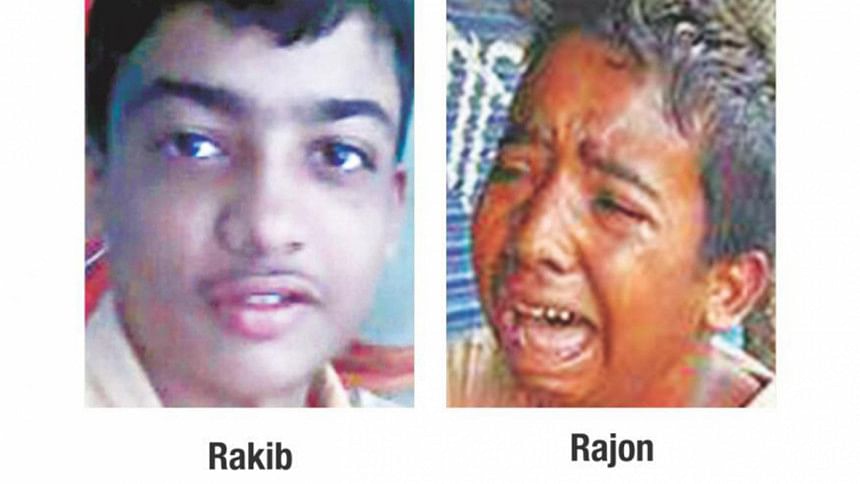 The death references in two cases filed for killing 13-year-old boys Sheikh Md Samiul Alam Rajon and Rakib reached the High Court today for examining the verdicts that sentenced six people to death.
Officials of Sylhet and Khulna courts concerned brought the documents of the cases including the judgements to the HC, Supreme Court's Additional Registrar Sabbir Foez told The Daily Star.
Death reference section of the HC has received the documents, he said.
READ MORE: Yet another savagery in Bangladesh
Chief Justice Surendra Kumar Sinha will now assign the High Court judges to hold hearing on the references.
Sylhet Metropolitan Sessions Judge's Court on Sunday sentenced four people including prime accused Quamrul Islam to death for beating Rajon to death in July this year.
On July 8, Rajon was beaten to death by a group of brutes in Kumargaon Bus Stand area of Sylhet Sadar allegedly for trying to steal a rickshaw van.
Tied to a pole, he screamed for help, cried for water and begged for his life. But they laughed and jeered at him till the boy went silent, forever. One of them even filmed the horrendous incident and shared it on Facebook.
The 28-minute video footage went viral and shows Quamrul, in a black T-shirt and lungi, hitting the boy with a stick in the feet, joints of legs, shoulders and in the head.
The sickening torture video shook the nation to its core and stirred outcries in the social network and the mainstream media.
ALSO READ: Death penalty for 2 killers of Rakib
On the other hand, Khulna Metropolitan Magistrate Court handed down death penalty to two people for killing Rakib by pumping air into his rectum.
On August 3, Rakib's former employer Md Sharif and his uncle Mintu Mia stripped the boy naked, inserted a high-pressure air pump nozzle into his rectum and filled the body with air for changing workplace. Rakib's intestines tore apart and lungs burst as air filled the abdomen, which left him dead.
The killing incident sparked outrage all over the country three months ago.