Death penalty for 2 killers of Rakib
Trial completed in 11 working days; victim's family demand capital punishment for Sharif's mother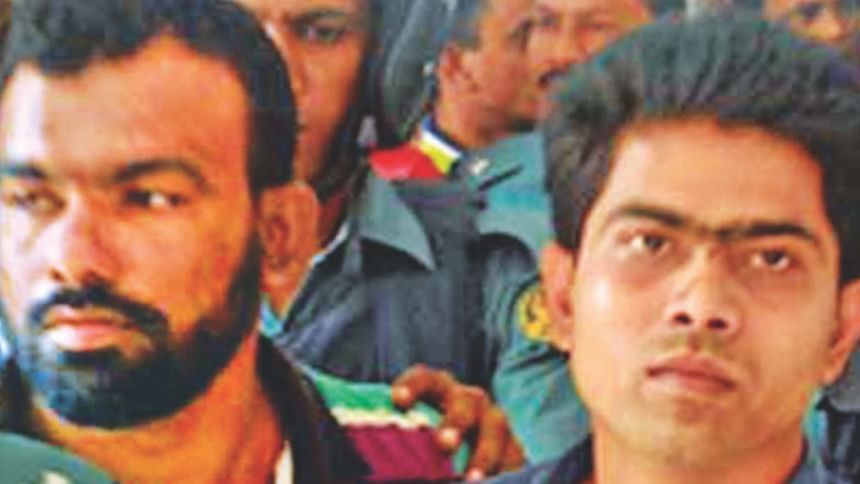 Two persons have been handed down the death penalty for killing 13-year-old Rakib by pumping air into his rectum in Khulna, an incident that sparked outrage all over the country three months ago.
The murder of the teenage boy was "heinous and barbaric", Khulna Metropolitan Magistrate's Court yesterday said in its verdict, sentencing the prime accused, Omar Sharif, and his accomplice and uncle Mintu Khan to death.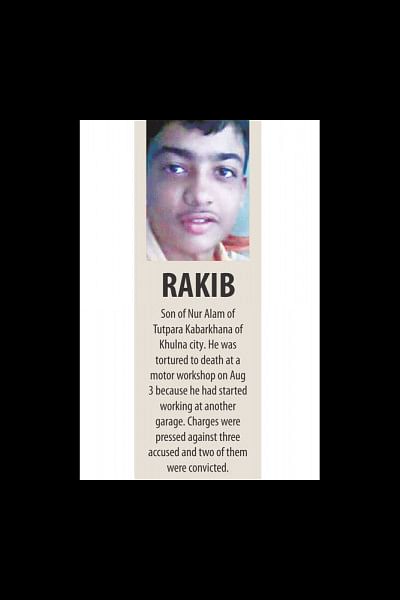 This type of incident must not happen again in the country, and that is why such a verdict has been given, Judge Dilruba Sultana said while announcing the judgment in a packed courtroom around 1:30pm.
The trial proceedings were completed in 11 working days, which is "unprecedented" in the country, said the prosecution.
The court, however, acquitted Sharif's mother Beauty Begum, as the charges against her could not be proved.
The victim's parents and relatives were unhappy with the acquittal of Beauty, and said they wanted all the three to walk the gallows.
They chanted slogans outside the courtroom, demanding capital punishment for Beauty.
"We are happy that Sharif and Mintu were given the death penalty. But it is painful for me to see that the woman, who was present when the barbaric killing was carried out, has been acquitted," said Rakib's father Nur Alam, who works in Satkhira.
The boy's mother, Lucky Begum, said she was shocked that Beauty was not handed down any punishment.
Terming her a "killer", Lucky said, "How could a mother tolerate her son torturing a minor boy mercilessly. She didn't even say anything, let alone stopping her son."
"She [Beauty] deserves to hang," said Lucky, who works as a domestic help.
After the verdict, advocate Mominul Islam, coordinator of Bangladesh Manabadhikar Bastabayan Sangstha's Khulna District Unit, told reporters that both sides have the option to file an appeal with the High Court if they wish.
Earlier, the accused were brought to the courtroom amid tight security around 10:00am.
The court sat around 1:00pm, and gave the judgment in the presence of Rakib's parents and relatives as well as many locals.
Rakib's nine-year-old sister Rima, who was at the court, was seen wiping tears from her eyes.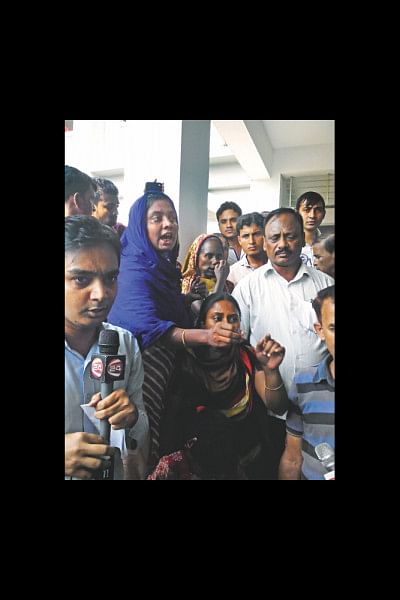 On August 3, Sharif, owner of "Sharif Motors", and his uncle Mintu Khan called Rakib, a former employee of Sharif, to his workshop in Tutpara Kabarkhana of Khulna when the boy went to a nearby store to buy some paint.
The duo stripped the boy, inserted a high-pressure air pump nozzle into his rectum and filled the body with air.
After Rakib became unconscious, Sharif and Mintu took him to a clinic and then to Khulna Medical College Hospital.
As the boy's condition deteriorated, his family decided to bring him to the capital for better treatment.
They started for Dhaka in an ambulance and stopped at Ad-din Hospital in Baikali, hoping to bring Rakib to the capital by a helicopter as they heard the hospital had the facility. But doctors there declared him dead around 10:30pm.
Rakib's intestines tore apart and lungs burst as air filled the abdomen. He died from multiple organ failure, police said, quoting doctors.
Locals caught Sharif, Mintu and Beauty, and handed them over to the police later that night.
Rakib, a school dropout, worked at Sharif's garage for Tk 50 a day for around two years to support his family. His "fault" was that he left the job at the workshop and joined elsewhere.
Rakib's family said he left the garage about five months ago, as Sharif and Mintu would often beat him. He then started working at another garage, which annoyed Sharif.
The boy's brutal murder triggered a barrage of condemnation and protest on the social media.
On August 4, Rakib's father filed a murder case with Khulna Sadar Police Station against Sharif, Mintu and Beauty.
Investigating officer of the case Sub-Inspector Kazi Mostak Ahmed pressed charges against the three on September 25. They were indicted on October 5.