Radicalisation of Bangladeshi workers dates back to 2013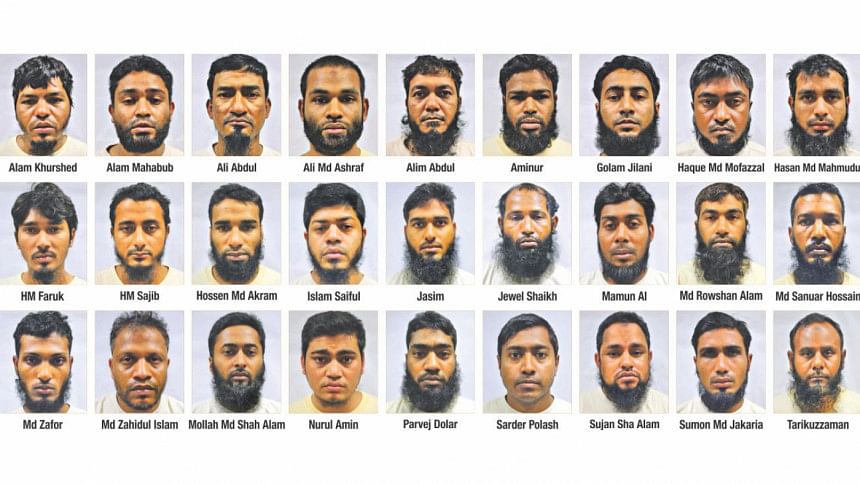 In April 2013, terrorist group Islamic State announced it would expand its operations beyond Iraq as the civil war in Syria worsened.
Around the same time, supporters of radical Bangladesh Islamist group Jamaat-e-Islami were engaged in a wave of violence in the country that saw attacks on police and minorities.
That same year, a group of Bangladeshi construction workers in Singapore began a closed religious study group to discuss these conflicts that involved Muslims, and whether they should take up arms.
By the end of last year, their number had grown.
Between Nov 16 and Dec 1 last year, 26 members and another who nearly joined them were arrested under the Internal Security Act, Singapore's Ministry of Home Affairs (MHA) said yesterday.
Ranging in age from 25 to 40, most had worked in Singapore between two and seven years.
These work permit holders were not concentrated in any particular construction company or workplace, nor were they concentrated in a particular residential area.
But they met every week to discuss taking up arms, and even used the premises of a few local mosques located near where some of them were staying, the ministry said.
Singapore Muslim leaders believe they might have slipped under the radar because quite a number of Bangladeshi workers gather at mosques, especially on weekends, to worship and do volunteer work.
Language poses a significant barrier too: Most Bangladeshi Muslims worship together with other Muslims, but when it comes to discussing religious matters, they are more comfortable using their own language. This group of radicalised men appeared to have taken measures to be discreet about what they discussed.
They circulated hardline material secretly among themselves.
They also carefully targeted fellow Bangladeshis to grow their numbers.
Some even distributed leaflets calling for the establishment of an Islamic caliphate, according to Bangladeshi workers interviewed who knew some of them.
Among themselves, they circulated videos of radical preachers as well as footage put out by supporters of terror groups like the Islamic State in Iraq and Syria (ISIS).
These show clips of young children undergoing martial arts as well as firearms training in what appear to be conflict zones. In the background are rousing Arabic recitations, also common in videos put out by ISIS to instil fervour among viewers.
The ministry said the members of the group supported the ideology of armed jihad espoused by terror groups like Al-Qaeda and ISIS.
They also had grievances against their government back home over its actions against some Bangladeshi Islamic groups and leaders. The Bangladesh government had clamped down on these groups and detained their leaders.
The members donated money to outfits linked to these groups.
Some also supported the violent actions of extremists who killed Shi'ite Muslims because they considered them to be deviant.
So when this group of Bangladeshi nationals gathered every week, they encouraged members to return home and take up arms against their government.
It appears they went beyond just instilling fervour through videos.
Some members had a soft copy document in Bengali that showed, through graphics, how they could attack a targeted victim and kill him quickly and quietly.
The ministry did not give details of how the group was detected, but many Singaporeans and Bangladeshis yesterday denounced these plans and were relieved they were found out before harm was done.
Copyright: The Straits Times/Asia News Network