Samrat, Arman jailed for wildlife law violation, drunkenness
A mobile court of Rapid Action Battalion (Rab) today sentenced Jubo League leader Ismail Hossain Samrat to six months imprisonment for wildlife law violation and drunkenness respectively.
Another mobile court jailed Samrat's associate Enamul Haque Arman for six months under Narcotics Control Act.
Samrat and Arman were Dhaka South unit president and vice president of Jubo League but after their arrest the party expelled them for their involvement in 'anti-social' activities and breaching party discipline.
After the duo was arrested from Cumilla, Rapid Action Battalion conducted a five-hour drive at Samrat's Kakrail office in Dhaka since 1:30pm today.
The members of the elite forces along with Samrat entered his office around 1:30pm and conducted a search for around five hours.
During the drive, the elite force members recovered a firearm with five rounds of bullets, around 30 bottles of liquor, over 1,000 Yaba tablets, a skin of Kangaroo, equipment used for torturing people and many other valuables, Lt Col Sarwar Bin Kashem, commanding officer of Rab-1, told reporters after the raid.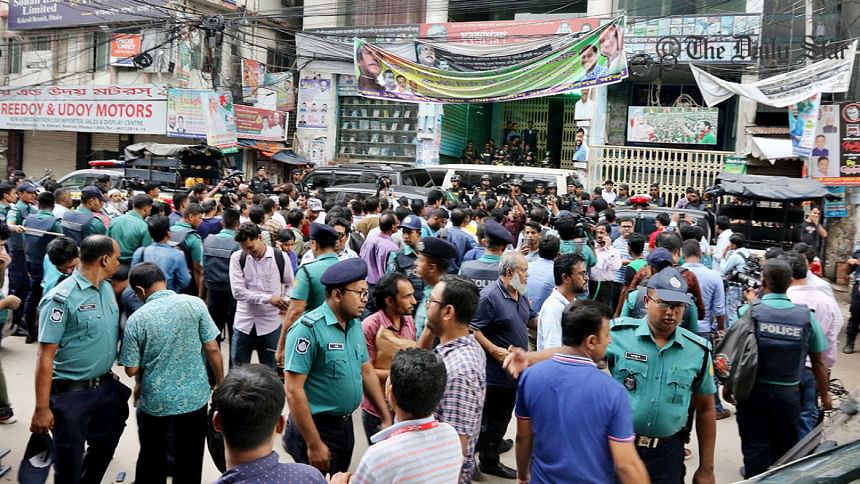 Later, a mobile court led by Executive Magistrate Sarwar Alam sentenced Samrat for six months imprisonment for possessing the skin of a Kangaroo, the magistrate said.
It also jailed Samrat and Arman for another six months under Narcotics Control Act as they were in drunken state during their arrests, the Rab official said.
Samrat was under scanner for running casino business at a club in the capital, according to the Rab.  
There had been speculations about the arrest of Samrat, the alleged kingpins of casino business in the capital, for the last couple of weeks.
The government on September 24 imposed a travel ban on Samrat after his name came in the spotlight during the clampdown for his alleged link with running casinos at different sporting clubs in Dhaka.
Bangladesh Bank also sought details of Samrat's bank accounts.