Pro-BNP lawyers for action against graft in judiciary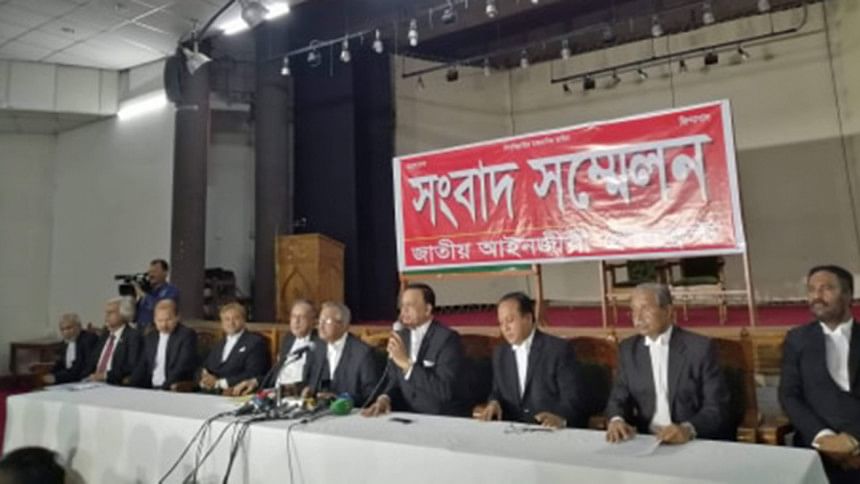 Jatiya Ainjibi Oikyafront (JAO), a forum of pro-BNP lawyers, today demanded to the authorities concerned to take necessary steps through Supreme Judicial Council against all kinds of corruption from the judiciary.
Comprising the chief justice and two other senior judges of the Appellate Division of the Supreme Court, the Supreme Judicial Council investigates allegations of misconduct of any judge and makes necessary recommendations to the president.
"We feel that if the judges are corrupt financially it is a corruption, and at the same time, if they don't properly discharge their constitutional duties that can also be considered as corruption. If any judge delivers judgement on the directive from the government in violation of the constitutional oath, we feel that he or she is also a corrupt judge," JAO Convener Zainul Abedin said.
He said while presenting a written statement at a press conference organised by JAO at the Supreme Court Bar Association (SCBA) auditorium today.
"Three (High Court) judges have recently been suspended from discharging judicial works. It is not clear what the allegation against them. Are they financially corrupt or otherwise? We don't know. The top law officer of the country and the law minister are not clearing the matter which is regretting," Advocate Zainul Abedin said.
He said the Appellate Division unanimously delivered a verdict on July 3, 2017 on the 16th amendment of the constitution, restoring the Supreme Judicial Council.
"The former chief justice Surendra Kumar Sinha has been forced to leave the country for delivering that judgement. Even though, we will say that the Supreme Judicial Council is still now in force," Zainul said.
He demanded to make the judiciary free from corruption and formulate a guideline for appointing judges to the High Court.
The JAO will form a human chain at all the district bar association premises on August 28 demanding removal of corruption and nepotism and appointment of judges in line with the constitution, Zainul announced.
JAO Member Secretary Barrister AM Mahbub Uddin Khokon, among others, spoke to the occasion.