UP polls: 8 lives lost in violence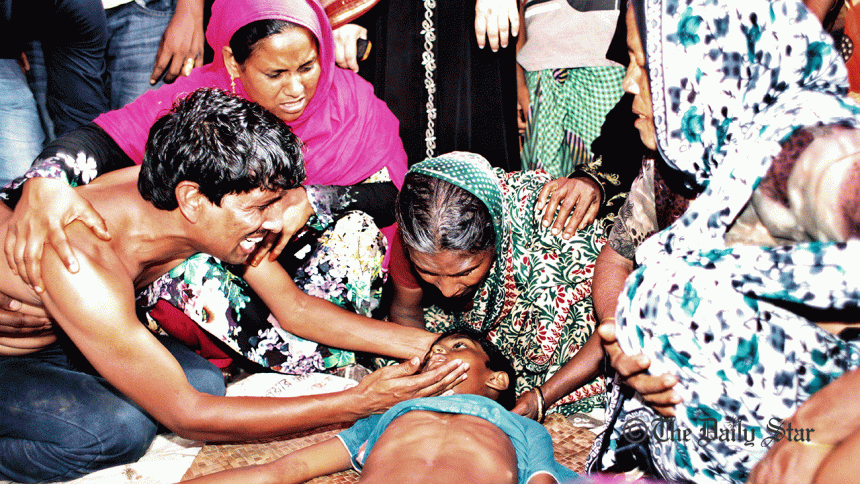 At least eight people were killed and many others injured in seven districts during violence in the second phase of union parishad elections today.
A woman was killed when workers of a victorious member candidate attacked rivals at Baghutia union in Daulatpur upazila of Manikganj.
As shutters fell on the second phase of union parishad elections, reports of two more deaths came in from Chittagong's Swandip – killed when police opened gunfire in defence.
Besides, three others including a 10-year-old boy were killed in Keraniganj, Jamalpur, Jessore, Natore and Madaripur.
In Chittagong, gun-toting and stick-wielding supporters of an independent candidate Zillur Rahman attacked Char Bauria Government Primary School around 4:10pm, police said.
"Police were compelled to fire in defence. Two people died and another injured critically as an aftermath. A police constable was injured," said Abdul Awal, additional superintendent of Chittagong police.
In Keranigaj, Shubho Kazi, a fourth grader of Madhurchar Government Primary School at Hazratpur union and son of Halim Kazi, was allegedly shot by a ruling party supporter.
According to the victim's father, Shubho went to Madhurchar Government Primary School polling centre with his uncle around 9:30am. A clash broke out in the polling centre.
"Gun-toting Awami League activist Rana Molla entered the voting centre and opened fire. My son was shot on the chest," he said. Shuvo was taken to a local hospital where he was declared dead.
Contacted, Ferdaous Hassain, officer-in-charge of Keraniganj Police Station, confirmed the firing incident. But he could not confirm the identities of the gun attackers.
In Jamalpur, Rafiqul Islam, 50, died in clash between supporters of the two member candidates at Uttar Baluchar Government Primary School polling centre at about 11:15am, UNB reports quoting witnesses.
However, Officer-in-charge of Melandah Police Station Nasimul Islam said Rafiqul died of heart attack while waiting in a long queue for casting vote.
In Jessore, a hawker was killed in clashes between supporters of two rival candidates in Chanchra union under Sadar upazila, said Ilias Hossain, officer-in-charge (OC) of Jessore Kotwali Police Station. Identity of the victim could not be confirmed.
The victim was wounded when Awami League candidates clashed firing gunshots and blasting bombs near the polling centre around 12:30pm. Doctors of Jessore Medical College Hospital declared the man dead.
In Manikganj, the supporters of elected member Tota Prodhan attacked the house of defeated candidate Shipon Ali after polls result around 8:30pm, leaving the woman dead on the spot, said Harun-or-Rashid, assistant superintendent of police in Manikganj.
The deceased was identified as Nomesa Begum, 55, wife of Iman Ali Sheikh of Paruria village, our Manikganj correspondent reports quoting the police official.
Four others people were also injured in the attack. They were taken to Shivalaya Upazila Health Complex.
Meanwhile, Sirajul Islam, brother of AL nominated chairman candidate in Boyra union of Harirampur Upazila received splinters of shot gun when they tried to snatch ballot boxes, said Jakir Hasan, additional superintendent of police in the district.
In Natore, one Biplob, age around 30, was killed and nine other were injured in poll violence that took place at Baknai Dakhil Madrasah centre in Lalpur upazila of Natore, reports our local correspondent quoting police.
The clash erupted between supporters of two member candidates around 1:30pm at the polling centre leaving at least 10 people including Biplob injured, said Abdul Hai Talukdar, officer-in-charge of Lalpur Police Station.
All the injured were taken to the upazil health complex. Later, Biplob was shifted to a private hospital in Rajshahi where he succumbed to his injuries, the OC added.
Fears were on that the second phase of the union parishad elections, that are being held under party banners for the first time, will be violent following the first phase elections.
In the first phase of union parishad polls held on March 22, at least 12 people died.