Politics not for killing, burning people: PM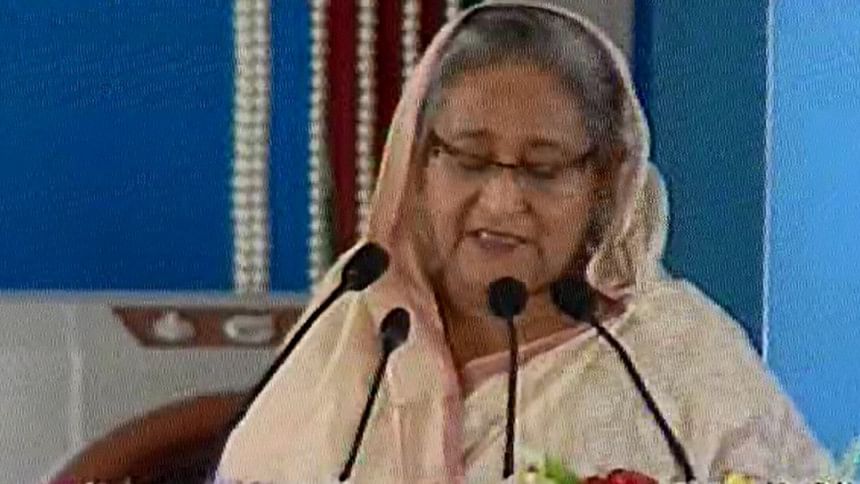 Recalling the horrible days of BNP-Jamaat's non-stop blockade and hartal in 2015, Prime Minister Sheikh Hasina today said: "how do they expect public support?".
"Politics is not for killing or burning people," she said while addressing a function after laying the foundation stone of Sheikh Hasina National Institute of Burn and Plastic Surgery in the city.
Taking a swipe at BNP-Jamaat for their non-stop blockade and hartal in 2015, Sheikh Hasina said it seemed that killing people day after day through arson attacks was their movement.
"But, we do our politics for the welfare of people and upholding their interests ...politics is not for killing and burning people," she said.
The prime minister questioned those who had engaged criminals to kill people through arson attacks what kind of politics they do. "Was it just to capture power ousting a government?" she asked.
Chaired by Health and Family Welfare Secretary Syed Monjurul Islam, the programme was addressed, among others, by Health and Family Welfare Minister Mohammad Nasim, State Minister for Health and Family Welfare Zahid Maleque, Dhaka South City Corporation Mayor Sayeed Khokan, Chief of Army Staff General Abu Belal Muhammad Shafiul Huq and project director Dr Samanta Lal Sen.