PM calls for best use of education facilities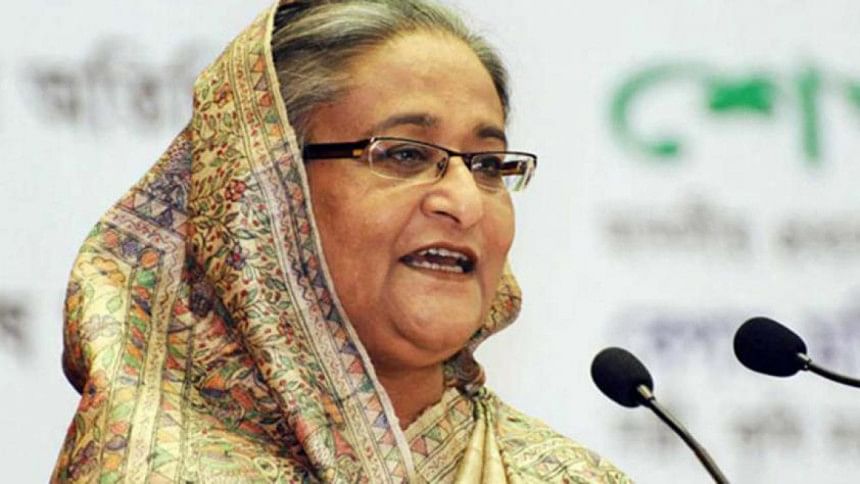 Prime Minister Sheikh Hasina today urged the students and guardians for best use of the opportunities and facilities made available by the government for promotion of education and find job after the education.

She said her government has attached highest importance to education aimed at making true the vision of government to make Bangladesh as middle income country by 2021 and developed one by 2041. "So education is the best tool to achieve the goal," she said adding that a nation cannot prosper without educating its people.

The Prime Minister was distributing awards among the students who showed their creative ability at national level competition on their various academic subjects in last two years.

She announced that every upazila of the country would have at least one government school and one government college. In view of that, she said a list of the upzilas has already been prepared and work would begin soon.

Sheikh Hasina distributed a cheque of Taka one lakh and a medal to each of 24 such students who scored best in the competitions in 2015 and 2016 under a government initiative title 'Srijanshil Medha Onneshan" (Searching Creative Talents) launched in 2013.

The award was given in four categories such as- Language and Literature, Daily Science/Science, Math and Computer and Bangladesh Studies and War of Liberation.

Education Minister Nurul Islam Nahid presided over the award distribution programme arranged by the Ministry of Education at Osmani Memorial Hall in the city.

Secretary of the education ministry M Sohrab Husain and Director General of the Department of Secondary and Higher Secondary Education Prof. Fahima Khatun addressed the function, among others. From the award recipients Shakil Reza Ifty of Dinajpur Zila School and Siratal Mostakim Sraboni of Rajuk Uttara Model College also spoke on the occasion.