Pest attack on Aman worries farmers
Patuakhali DAE cancels leave of field level employees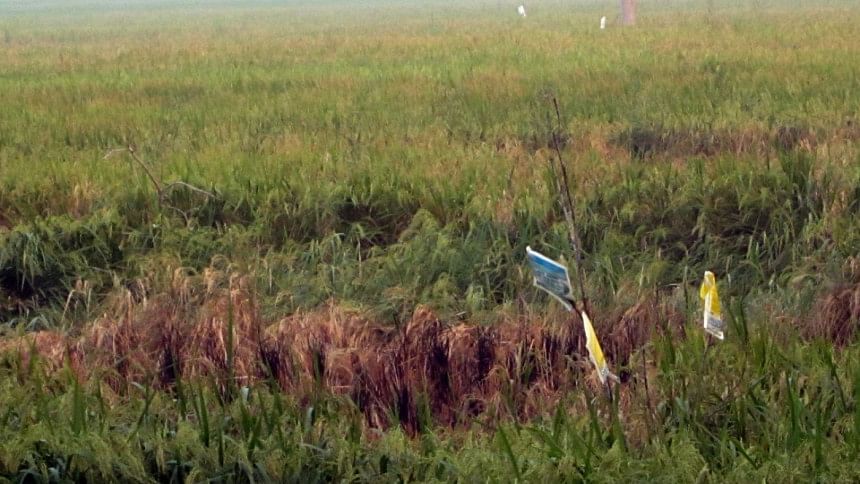 Aman growers in eight upazilas of the district are worried due to attack on their paddy fields by a pest named 'brown planthopper,' locally called 'current poka.'  
The situation is very bad in Lohalia, Lawkathi, Jainkathi villages under Sadar upazila, Kalaiya, Chanda Dwip under Baufal upazila and Nishabaria under Kalapara upazila. 
Farmers are worried that they may not get a good yield of their main crop this year due to the pest attack. 
Farmer Md Sultan Mia of Lohalia village said his crop has been attacked by the current poka and the paddy is turning brown. 
Harun Jomaddar, another farmer of the same village, said he sprayed insecticides on the field but that did not help. The pest first attacks the branch, which dries up slowly, he added.  
Md Joynal Abedin of Rajapara village in Kalapara upazila said he took help from the upazila Department of Agriculture Extension (DAE) office when his five decimals of Aman fields were attacked by the pest.
Abdul Mannan of same village said Aman paddy on his seven bighas of land is getting damaged by the brown plant hopper attack. He is trying his best to control the pest as per advice from DAE officials, he added.
Kalapara Upazila DAE officer Md Moshiur Rahman said they are cooperating with the farmers and trying their best to control the situation. "We are trying to control it in different ways, including setting up light traps and spraying insecticides," he added.
Md Ibrahim Howlader of Nawmala village in Baufal upazila said the pest attacked his three acres of Aman paddy land. On the advice of the DAE officials, he sprayed medicines and set up light traps, which got rid of the pest.
Acting Deputy Director of the district DAE Abdul Wadud Khan said about 3.15 hectares of Aman fields in the district were attacked by the pest. 
"We cancelled leave of all field-level employees due to the situation and considering interest of the farmers," he added.