Pak reaction: Lies and audacity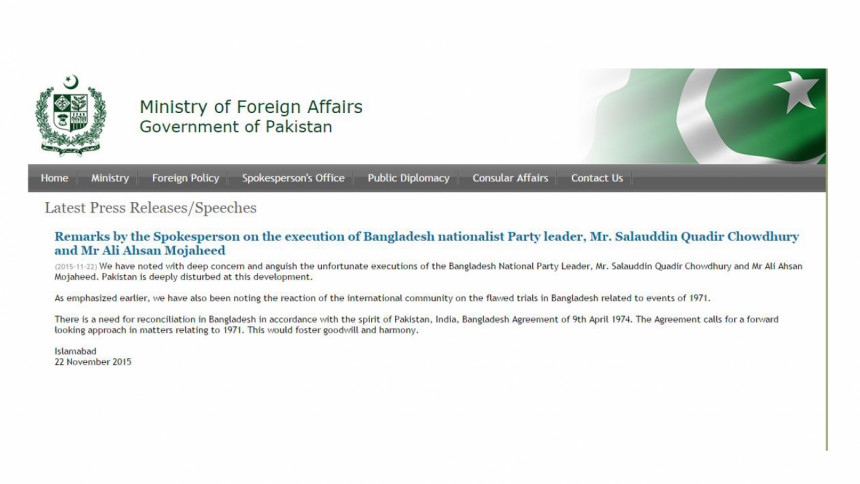 We can react two ways at Pakistan's expression of 'deep anguish' at the hanging of two war criminals – Salauddin Quader Chowdhury and Ali Ahsan Mohammad Mojaheed.
First, we may feel satisfied that Pakistan – a state plagued by disintegrating forces, a state that breeds Jihadists for the world, a state so brutal that it did not wink to commit one of the history's worst genocides in Bangladesh in 1971 – does actually feel anguished for war criminals, not for any great souls. It only proves that Pakistan can still not accept our victory in 1971.
But having said that we believe the audacity that Pakistan showed by meddling in our domestic affairs is beyond any reason. It has no business to say anything regarding our dealings with the war criminals. And it has lied about 1974 tripartite agreement among Bangladesh, India and Pakistan to deliberately confuse people.
Any student of history knows how Pakistan had repressed us the Bangalees economically, politically and socially. We served a deserving slap to the Pakistan ruling class by routing it in the 1970 election in the light of six-point demand of Awami League led by Bangabandhu.
But the Pakistani rulers would not let us come to power. Pakistan president started make-believe talks with Awami League on the point of power transfer basically to gain time for preparation of a military crackdown on Bangalees. Troops started amassing in Dhaka from West Pakistan.
As everything was complete, Yahiya silently left Dhaka for Islamabad leaving the talks inconclusive. And from that night, the military rolled on the street with its fire power, killing the sleeping innocents. And with them joined the war criminals, the horde of Pakistan lovers of the likes of Salauddin and Mojaheed. They together killed three million and raped two lakh women. Those of us who had gone through that time all know those days of horrors.
And now, as we try these killers, Pakistan feels deeply concerned and anguished. By making such a reprehensible undiplomatic statement, it only revealed and validated the role these criminals played in their genocide. It also revealed what role Pakistan played in 1971.
Pakistan has also twisted facts by saying that there is a need for reconciliation in Bangladesh in accordance with the spirit of tripartite agreement of 1974.
This agreement was done mainly for the repatriation of 195 Pakistani prisoners of war (PoWs) and a three-way repatriation of the PoWs and Pakistani and Bangladeshi people stuck in those lands.
Bangladesh specifically stated in the agreement that the excesses and crimes committed by these 195 prisoners of war constituted, according to the relevant provisions of the UN General Assembly Resolutions and International Law, war crimes, crimes against humanity and genocide, and that these 195 Pakistani soldiers should be tried.
ALSO READ: SQ Chy: The master of genocide
ALSO READ: Mojaheed: Fall of a war criminal
Pakistan in its deceptive way said it condemned and deeply regretted any crimes that 'may have been committed'. It took back its 195 soldiers and never tried them because it knew the genocide it committed in Bangladesh was a state decision.
The issue of reconciliation arose in the light of establishing relationship between Bangladesh and Pakistan and never in the context of genocides committed by the local collaborators. In fact the issues of collaborators were never raised in the agreement as it was solely Bangladesh's internal matter.
Any country that had fought wars for independence and had to face collaborators among its own people had tried them for war crimes. Vietnam had done it. So had Cambodia in recent times. Through such trials a country finally heals its wounds.
It is sad that Bangladesh had to do it so late. But it is better to be late than never.  However, we cannot help if Pakistan now feels anguished for its partners in crime. We should rather feel anguished that Pakistan has not been able to reconcile with Bangladesh after all these years and still feels for its collaborators and not for the people of Bangladesh.