Order on contempt plea against Zafrullah July 12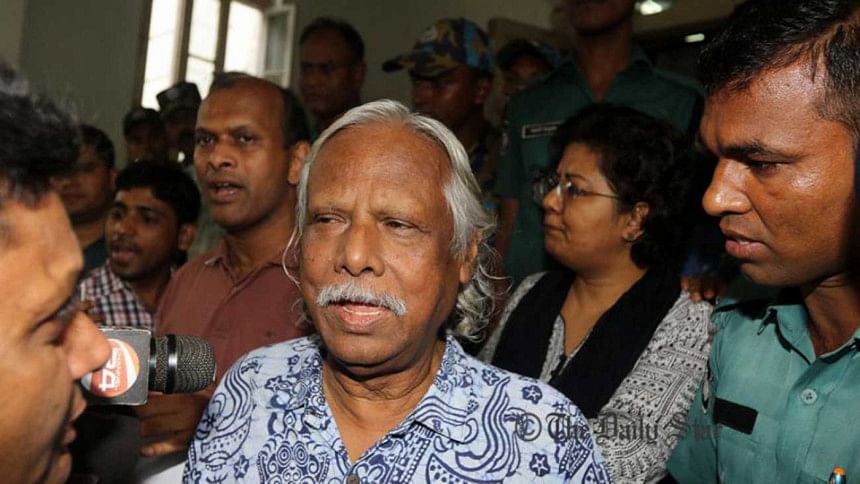 A special tribunal in Dhaka fixed July 12 for passing an order on a petition filed for initiating contempt of court proceedings against Gonoshasthaya Kendra founder Zafrullah Chowdhury for his comments over the tribunal.
The three-member International Crimes Tribunal-2 led by its Chairman Justice Obaidul Hassan fixed the date after hearing submission of the petitioners' lawyers Khan Mohammad Shameem Aziz and Morshed Ahmed Khan.
The lawyers sought punishment against Zafrullah after placing their submission.
Five individuals -- freedom fighters Manoranjan Ghoshal, Ajgar Ali and Sheikh Nazrul Islam, and Gonojagoron Mancha organisers Kamal Pasha Chowdhury and FM Shahin -- yesterday filed the petition with the Tribunal-2 for initiating contempt of court proceedings against Zafrullah.
The petition was filed as Zafrullah made some comments before the media on June 10 after the court found Zafrullah guilty of contempt of court and punished him for the offence, Shameem Aziz told reporters.
Zafrullah was imprisoned at the courtroom for an hour and fined Tk 5,000 for criticising punishment of Bangladesh-based UK journalist David Bergman.
On that day, Zafrullah told reporters: "Today's contempt of court verdict is the proof of mental sickness of the three judges. It proves mental sickness of three justices. Ensuring justice is not possible if the judges can't tolerate criticism. When they can't tolerate criticism and lack rationality, they hide themselves under cover of law."
Zafrullah, also a freedom fighter, challenged the tribunal's order and the Supreme Court on June 16 stayed the tribunal's verdict following his petition. The matter is still pending before the apex court.
He had already faced contempt proceedings twice for his comments on the tribunals. For the first time, he faced contempt charges before the ICT-1 for his comment in a TV talk show, but the court pardoned him with a warning.
On December 2 last year, the tribunal-2 found Bergman, editor (special reports) of English daily New Age, guilty of contempt for writing two blog posts in January 2013 on the verdict of war crimes convict Abul Kalam Azad. He was sentenced to imprisonment "till rising of the court" that day and was also fined Tk 5,000.
On December 20, the daily Prothom Alo ran a report headlined "50 people express concern over Bergman's punishment," which stated that the order would restrict freedom of expression.
Zafrullah was among the 50 people, who expressed concerned over the verdict.