Nusrat murder: 12 death convicts shifted to Cumilla jail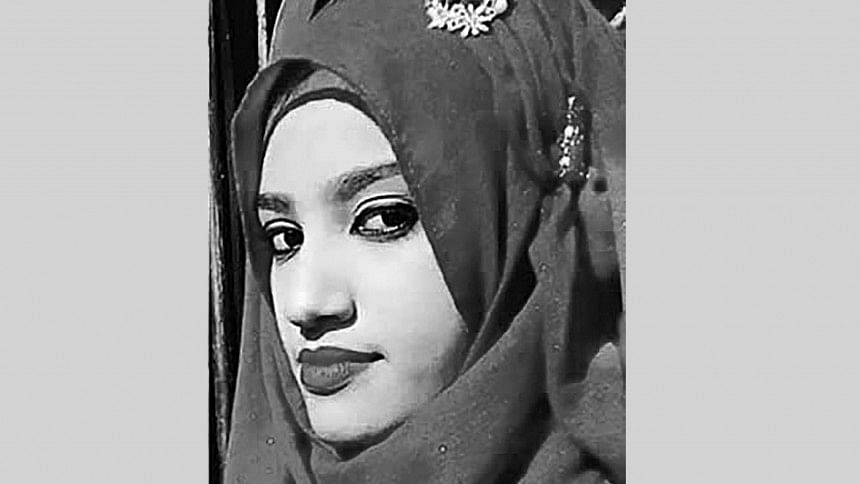 Twelve out of 16 convicts who were awarded to capital punishment in madrasa girl Nusrat Jahan Rafi killing case were shifted to Cumilla Central Jail from Feni District Jail this morning.
The death convicts are Sonagazi upazila councillor Maksud AlamSonagazi Islamia Senior Fazil Madrasa teachers Absar Uddin and Hafez Abdul Kadir, Nur Uddin, Shahadat Hossain alias Shamim, Saifur Rahman Md Zobair, Zabed Hossain alias Shakhawat Hossain Zaved, Abdur Rahim Sharif, Iftekhar Uddin Rana, Imran Hossain alias Mamun, Mohammad Shamim, Mohiuddin Shakil.
Two other death convicts -- Ruhul Amin, former president of Awami League's Sonagazi upazila unit and sacked madrasa principal Siraj Ud Doula will be shifted to Cumilla Central Jail tomorrow, a correspondent from Feni reports.
In addition, two other death convicts Umme Sultana Popy and Kamrunnahar Moni will be transferred to Chattogram Central Jail tomorrow, said Feni District Prison Chief Md Didarul Alam.
The decision of shifting convicts to another prisons from Feni District Jail as per directive of Inspector General of Prison (IGP).
After announcement of Nusrat murder case verdict on October 24, the authorities of Feni District Jail sent a letter seeking suggestion from the IGP on keeping the convicts as there was no adequate accommodation facilities for any death convict.  
On October 24, a tribunal in Feni sentenced 16 people to death for their involvement in Nusrat murder case.
Nusrat was set on fire on April 6 on the roof of a madrasah by a group of people loyal to Sirajuddoula, whom she had accused of sexually harassing her.
Nusrat succumbed to her injuries four days later at Dhaka Medical College Hospital.