N'ganj teacher humiliation: Cops seek more time to submit report to HC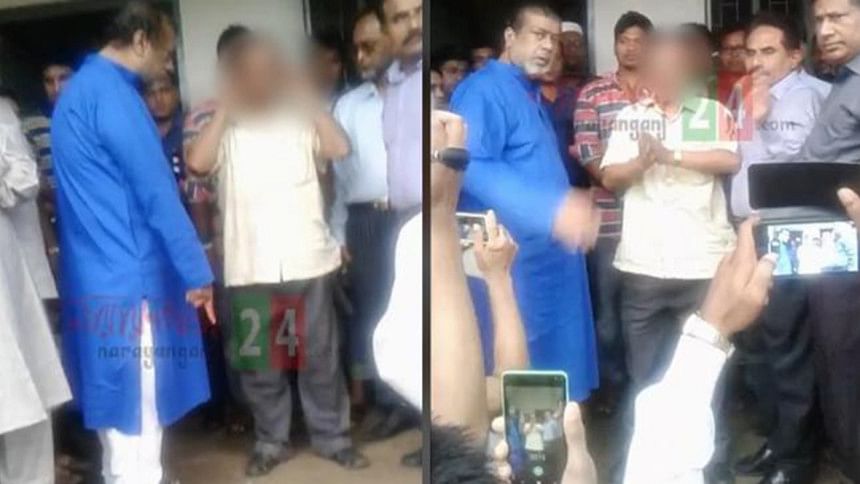 Narayanganj police today sought two months time from the High Court for submitting report over the incident of public humiliation of school teacher Shyamal Kanti Bhakta.
Superintendent of police in Narayanganj and officer-in-charge of Bandar Police Station today sent two letters to the Attorney General's office for submitting those before the High Court seeking time, Deputy Attorney General Motaher Hossain Sazu told The Daily Star.
He also said the deputy commissioner of Narayanganj has sent a report to the attorney general's office for placing it to the High Court expressing sorrow for not making a detail report over the incident earlier.
In the report, the deputy commissioner said two law and order protection committees of Narayanganj have decided to take steps so that the law and order situation centering the humiliation of Shyamal does not deteriorate further.
The committees have held two separate meetings for keeping the law and order situation in the area where Shyamal was humiliated under control.
Sazu said he will submit the letters and the report of the DC before the High Court tomorrow.
The HC bench of Justice Moyeenul Islam Chowdhury and Justice Md Iqbal Kabir are set to pass an order on the issue tomorrow.
Earlier on May 29, the HC bench ordered the DC and SP of Narayanganj and the OC of Bandar Police Station to submit separate detailed reports specifying the steps taken against those involved in humiliating Shyamal to this court today.
The bench also expressed dissatisfaction over their earlier reports.
On May 13, AKM Salim Osman, Jaitya Party lawmaker from Narayanganj-5 constituency, was seen instructing Bhakta to do squats holding his ears. Before that, Shaymal was beaten up by a mob.