4 more dengue patients die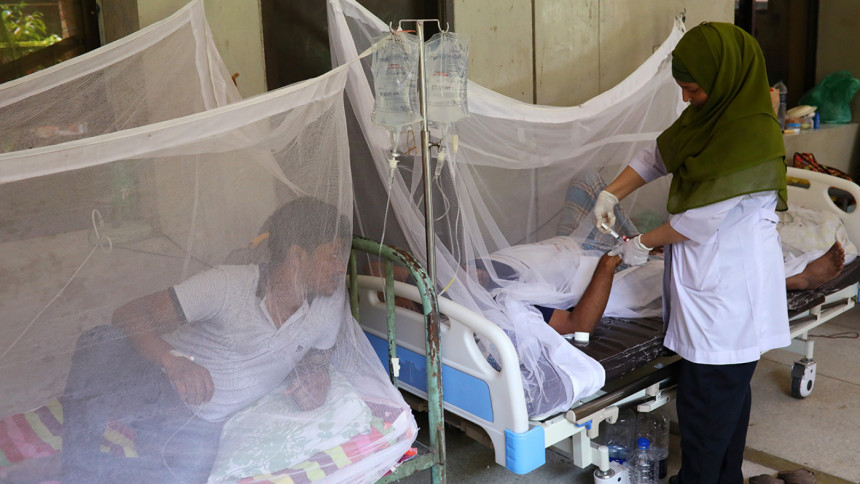 Four persons infected with dengue, a mosquito-borne disease, have died in four districts including Dhaka.
The deceased are: Khadiza, 2, of Mir Hazaribagh in Dhaka, Farhad Hossain Jihad, 14, of Muladi upazila; Zahida Begum, 35, of Manirampur upazila in Jashore; and Rahima Begum, 50, of Satkhira's Tala upazila.
In Dhaka, Khadiza was diagnosed with dengue and admitted to Mugda hospital four days ago, said her uncle Ibrahim Hosen.
When her condition deteriorated, she was rushed to Dhaka Medical College Hospital from Mugda hospital. After a few hours, she died at the DMCH, Ibrahim said.
In Barishal, Jihad, a student of class VII at Adarsha High School, admitted to Sher-e Bangla Medical College Hospital (SBMCH) around 10:00pm yesterday with dengue fever and died around 1:30pm today, Dr Bakir Hossain, director of the hospital, told our correspondent.
The patient was sent to the SBMCH from local health complex in critical condition last night, Dr Bakir said.
Basudev Kumar Das, deputy director of Barishal divisional office of health directorate, said that 67 dengue patients are undergoing treatment at different public and private hospitals in six districts of Barishal division.
In Jashore, Zahida Begum, 35, of Hanuar village in Manirampur upazila, died at Jashore General Hospital around 6:00am today, Bangla daily Prothom Alo reports.
She was admitted to the hospital with dengue fever on Monday.
Since her admission, Zahida's condition was serious, said Dr Arif Ahmed, resident medical officer of the hospital.
She was referred to Khulna Medical College Hospital yesterday but did not shift there, the daily reported quoting the doctor.  
In Khulna, Rahima Begum, a resident of Satkhira's Tala upazila, passed away at Khulna Medical College Hospital (KMCH) around 11:30pm last night, reports UNB.
Dr Sailendranath Biswas, resident medical officer of the KMCH, said Rahima was hospitalised on Monday with dengue.
So far, 11 people have died of dengue in the district, UNB reports.
Bangladesh has been fighting an uphill battle against the mosquito-borne disease this year. Since January, 77,983 people were hospitalised with dengue. Of them, 74,714 made full recovery.
During this period, the Institute of Epidemiology, Disease Control and Research (IEDCR) received information about 197 dengue-related deaths. So far, it has reviewed 101 cases and confirmed 60 dengue deaths.