3 more dengue patients die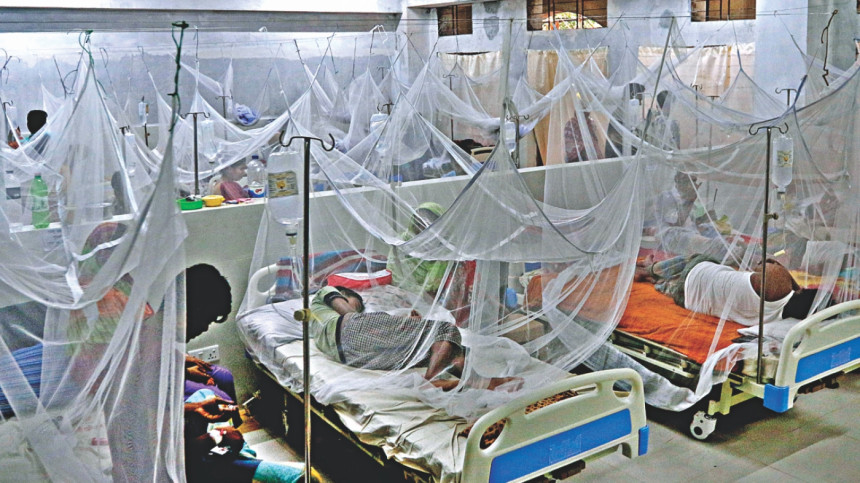 Three more people, including two children, died of dengue in Dhaka, Rangpur and Faridpur today.
With these deaths, 123 people died this year after being infected by the mosquito-borne disease, according to sources at different hospitals.
The Directorate General of Health Services (DGHS), however, has so far confirmed 52 deaths from dengue. A total of 1189 dengue patients were admitted to the hospitals in the last 24 hours till 8:00 am today.
In Dhaka, Siam, a nine-year-old boy died of dengue at Dhaka Shishu Hospital this evening.
Kinkar Ghosh, epidemiologist of the hospital said Siam, a resident of Madaripur died of dengue at 6:00pm.
In Rangpur, Monisha Aktar, a 12-year-old girl breathed her last on early today, after 14 days of being infected dengue, at Rangpur Medical College Hospital.
Rabiul Islam, maternal uncle of Monisha said Monisha and her mother, Merina Begum were admitted to M Abdur Rahim Medical College Hospital in Dinajpur on August 15, with dengue.
Though mother recovered from dengue but Mohshian was admitted to Rangpur Medical College Hospital on August 26 in a critical condition.
She died in the hospital today, said Dr. AKM Shaheduzzaman Associate professor of Medicine Department of RMCH.
In Faridpur, Sabuj Das, 22, son of Shib Sankar Das of Nurulaganj village died of dengue fever at a private hospital in Dhaka.
Amit Das, a cousin of Sojib, said, "Sojib had been suffering from fever since Sunday."
He was admitted to Faridpur Medical College Hospital on Tuesday and diagnosed dengue.
Sabujwas referred to Dhaka on Wednesday night as his condition worsened. And died at a private hospital in Dhaka around 10:30am today.