Tazing Dong under threat
Illegal hill cutting continues for brick kiln near the country's highest peak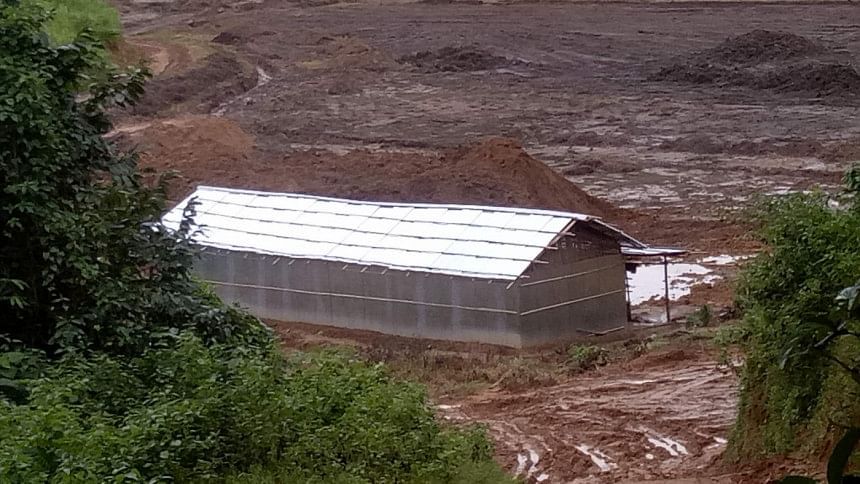 Illegal hill cutting continues unabated for construction of a brick kiln near Tazing Dong, the country's highest peak in remote Thanchi upazila, threatening environment.
Lalmun Kup Bawm, karbari (village chief) of Prata Bawm Para in the upazila, blamed the local administration for favouring the influential brick field owner in setting up the kiln.
"They started cutting the hill to set up the illegal brick kiln one month ago defying our request," he said.
Lalmun further said "We will face severe water crisis if the kiln is operated as it will pollute the nearby water bodies."
On September 23, they submitted an application to the deputy commissioner but the authorities concerned are yet to take any action to stop construction of the brick kiln, he said.
If the kiln is built, it will harm the environment badly in nearby Prata Bawm Para and Baklai Para areas.
Around sixty families live in the two areas, said Ramtin Bawm, former union parishad member of Prata Bawm Para.
The village chief alleged that the brick kiln owner has threatened them whenever they protest.
Contacted, brick kiln owner Abdul Kuddus, also the former chairman of Sadar Upazila Parishad, said they recently started constructing the kiln but if the administration asks to stop the construction work, they will stop it.  
Upazila Nirbahi Officer Ariful Haq Mridul said soon they will issue a notice asking the kiln owner to stop the work.
It is a matter of serious concern that the brick kiln will be set up near Tazing Dong, said Zumlian Amlai, chairperson (Bandarban chapter) of the Parbatya Chattogram Forest and Land Rights Protection.
If the kiln is built, it will destroy the natural forest in the area, said Zumlian Amlai.