Take proper steps against ex-Sonagazi OC, IGP to cops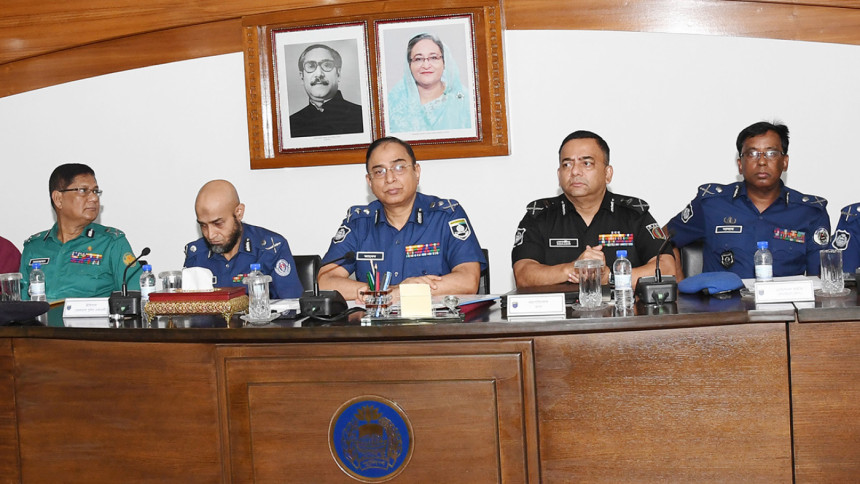 Inspector General of Police (IGP) Mohammad Javed Patwary today directed all concerned police officials to take proper legal action against former officer-in-charge (OC) of Sonagazi Police Station Moazzem Hossain.
The IGP came up with the directive at a meeting at police headquarters in Dhaka around over two weeks after a tribunal issued arrest warrant against the OC.
The tribunal issued the arrest warrant on May 27 after a police investigation found that he unlawfully interrogated Feni madrasa girl Nusrat Jahan Rafi and recorded the incident on phone and circulated it on the social media.
Supreme Court lawyer Syed Sayedul Haque Suman filed the case against Moazzem under the Digital Security Act on May 15.
Sohel Ran, an assistant inspector general at the Police Headquarters, said, "The stance of Bangladesh police regarding to former OC Moazzem Hossain was very clear and specific. Police are exerting all efforts to arrest him."
The police chief at the meeting asked police officials to remain alert so that militants cannot raise their heads. He said the militant activities is now under control, says a police headquarters press release.
He also directed the police officials to set up check posts in different important points, conduct block raids to curb militant activities.
The IGP also directed the officials to monitor social media and strengthening intelligence activities against the militants.
The police chief also asked all to ensure security to locals and foreigners working at different ongoing mega projects. Reminding the zero tolerance stance against drugs, he asked the police officials to forge a social movement against drugs in cooperation with all irrespective of all classes and professions.
All range deputy inspector general, metropolitan police commissioners and superintendent of police of all districts were present at the meeting.