Swelling Teesta floods peanut fields in Rangpur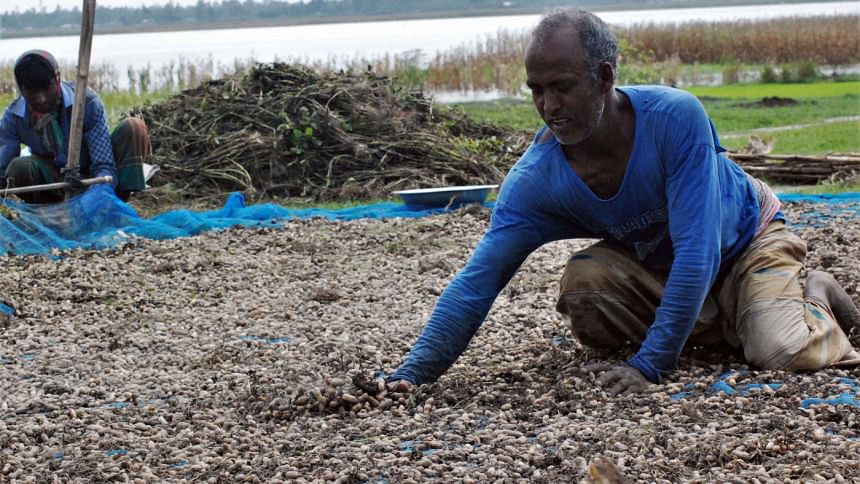 A large portion of the peanut fields in the raised sandy basin of the Teesta river in three upazilas of Rangpur has been flooded due to the sudden rise of water level, only a few days before the usual harvesting time.
A large number of poor landless families of the Testa char areas in Gangachara, Kaunia and Pirgachha upazilas of Rangpur manage their livelihood by producing crops there.
According to the Department of Agriculture Extension (DAE), at least 1,000 hectares of land in 20 char (land area emerging from riverbed) areas of the three upazilas have been brought under peanut cultivation this year.
Of it, over 200-hectare peanut land have been inundated due to the rise of water level in the Teesta.
Rafiqul Islam of Char Biswanath under Kaunia upazila said he cultivated peanut on a two-acre land and expected a good yield this season.
"But, half of the peanut field has already gone under water. Many farmers of the area collected peanut from under the water to minimise their loss," he said, adding that water level of the Teesta started rapidly swelling on June 20.
Usually the Teesta swells in July, but this year it happened early due to heavy rain across the region, which caused massive losses to the crop, local farmers said.
Through peanut farming, the needy people of the 20 char areas of three upazilas of Rangpur have changed their fortune.
It is possible to produce 25 maunds (a maund = 40 kg) of peanut in an acre and a kg of peanut sells at Tk 80, said the farmers.
Many farmers harvested the peanut in premature condition as the water level of the Teesta started rising, said Sirajul Islam of Dhusmara Char.
​"We are more worried as wholesale buyers from other districts are not coming this season to buy the peanut due to the ongoing coronavirus pandemic," he said.
Dr Sarwarul Haq, deputy director of DAE in Rangpur, said farmers are facing losses due to the sudden surge of water level of the Teesta.