State-of-the-art forensic lab in Rajshahi starts operation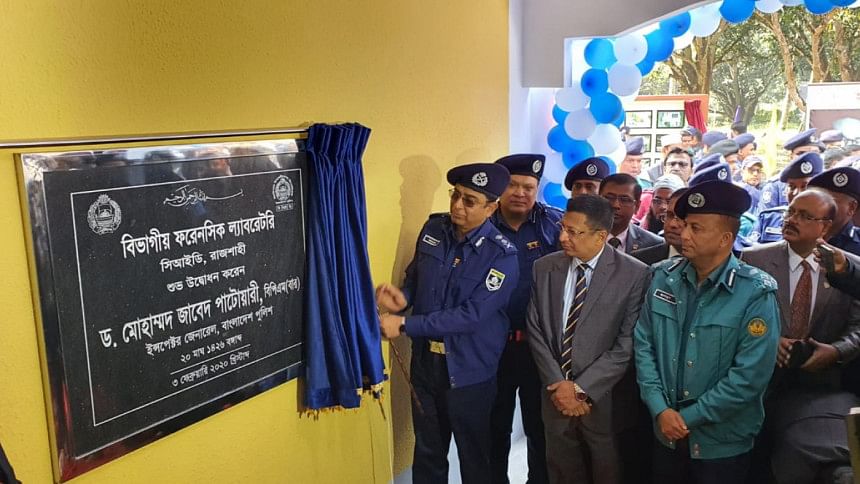 A state-of-the-art forensic laboratory of Criminal Investigation Department (CID) today starts operation in Rajshahi for examining evidence, detecting crime and identifying criminals in Rajshahi and Rangpur regions.
Inspector General of Police Mohammad Javed Patwary inaugurated the laboratory today at Rajshahi Police Lines.
CID official said evidences of cases filed with Rajshahi and Rangpur metropolitan and ranges police will be tested in the lab. The lab will reduce hassle as sending evidence from one division to another requires time, leading to delays.
Such labs play a significant role in examining important evidence to solve criminal cases, the officials said.  
CID officials said there is a "ballistics section" to examine arms and explosives and separate sections for inspecting forgeries and counterfeit notes.
A special crime scene unit has been added to the lab to collect evidence from the scene of crime.
There is finger and foot print sections to match prints collected, a handwriting analysis and photography sections to accelerate investigations.
Its chemical laboratories will help uncover the presence of intoxicants in dead bodies, even those dug up from graves. It can also be used to test explosives or acid to find out how they were made, CID officials said.
CID Chief and Additional IGP Chowdhury Abdullah Al Mamun, Rajshahi Metropolitan Police (RMP) Commissioner Md Humayun Kabir, Deputy Inspector General of CID's Forensic Division Shaikh Nazmul Alam, Special Superintendent of CID's Forensic Division Rumana Akhter, among others, were present on the occasion.