Shahed arrested while trying to cross the border to India; flown to Dhaka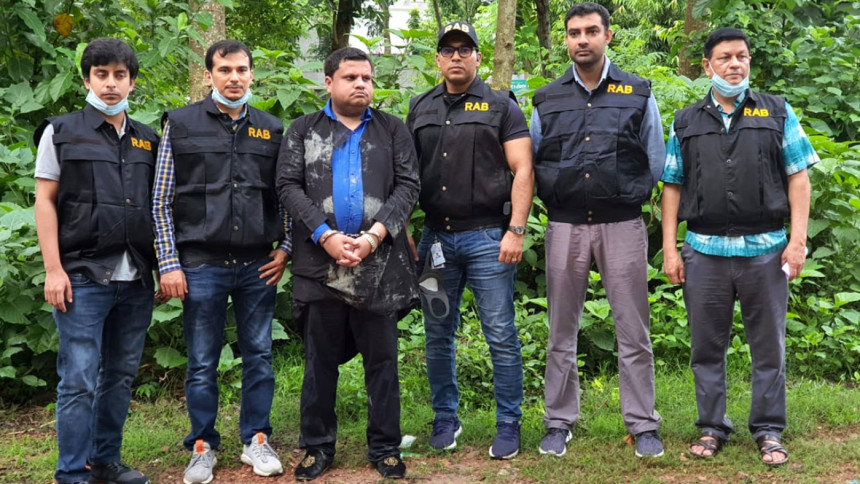 Chairman of Regent Group Md Shahed was arrested from the border area of Debhata upazila in Satkhira early today.
Rapid Action Battalion arrested Shahed with illegal arms in a special drive from the bank of Labangaboti river in Komarpur village around 5:00am, said Lt Col Ashique Billah, director of Rab's legal and media wing.
Shahed was flown to Dhaka by a helicopter. He landed at Tajgaon old airport at 9am, he said at a press conference at the old airport.
"Shahed was arrested while trying to cross the border by boat. He was wearing a burqa at the time. He was trying to enter India illegally," Lt Col Ashique Billah said.
Rab's Intelligence Chief Lt Col Sarwar-Bin-Quasem, who led the drive, said it would have been very difficult to arrest Shahed had he managed to cross the border.
A mobile court on July 7 sealed off the head office of Regent Group and Uttara branch of Regent Hospital for issuing fake Covid-19 certificates and taking money from coronavirus patients for tests and treatment, violating an agreement with the government. Mirpur branch of the hospital was sealed off the following day.
The hospital authorities took Tk 3,500 for each test, meaning they embezzled more than Tk 3.5 crore, despite having an agreement with the government on conducting tests and providing free treatment, according to the law enforcers.
On July 13, a Dhaka court issued arrest warrants against Shahed in connection with two cases filed over misappropriation of Tk 3.68 crore.