Plan Int'l holds Girls Takeover events to promote gender equality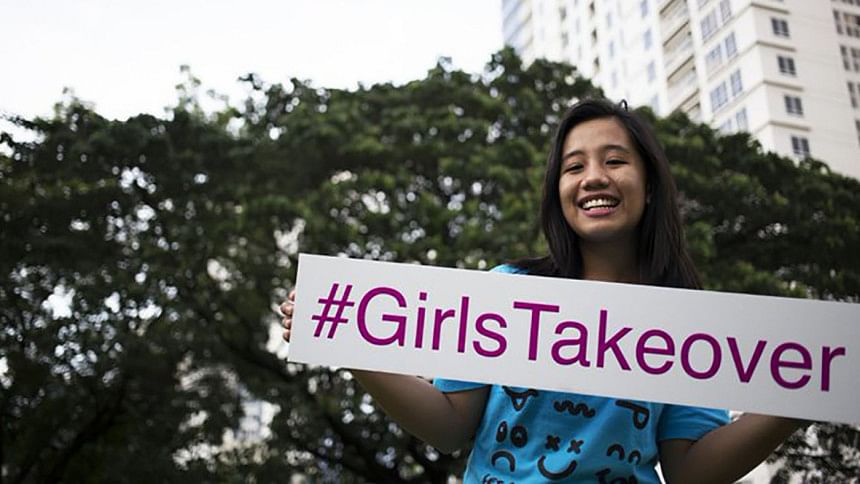 Plan International Bangladesh has facilitated 11 #GirlsTakeOver events in international, national and local level.
More than 1000 #GirlsTakeover events held in more than 70 countries to mark the International Day of the Girl 2019, with girls raising their voice against the discrimination, harassment, and inequalities that hold them back, the release added.
The global #GirlsTakeover action has been organised as part of Plan International's bold new campaign Girls Get Equal calling for increased investment in girls' power, activism and leadership. The campaign will be the world's biggest girl-led action for gender equality, a press release said.
Youth activists from communities all over the world will be mobilised to shake up decades of slow progress on gender equality. They will confront and tackle the stereotypes that hold girls back.
From El Salvador to Bangladesh, girls have taken over the positions of the political leaders, public representatives, media personnel, ambassadors, business leaders, CEOs and more for a day to demand equality, says a press release.
The chief advisor of  parliamentary caucus on child rights Fazle Rabbi Miah, chairman of the parliamentary caucus on child rights Shamsul Hoque Tuku, Charlotta Schlyter the ambassador of of Sweden, the Editor of the Prothom Alo Matiur Rahman, the Editor of the Daily Star Mahfuz Anam and  the chairperson  of Adcomm Ltd. Geeteara Safiya Chowdhury are the leading, influential and powerful role models whose positions were "taken over" for a day by the young girls from different parts of the country during 1 October to 10 October with the commitment from them to create a new world where girls and young women are seen, heard and valued as equals to boys and men,
Orla Murphy, the Country Director of Plan International Bangladesh said, "Through #GirlsTakeover, Plan International is asking governments to take action – in homes, political institutions and in the media – to end violence, discrimination and injustice against girls and women.  Girls can and do lead change, but they need allies. Everyone – government, civil society, corporate, media, parent, women, man and boy – needs to understand what gender discrimination looks like, their role in it and how they can eliminate it".