Organic mission to save earth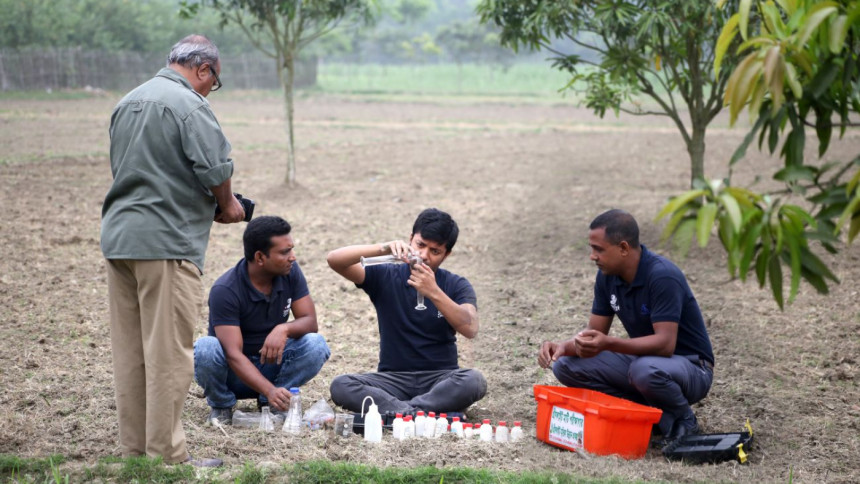 Poet Kazi Nazrul Islam wrote "The soil of my land is richer than pure gold". Truly, the soil of Bangladesh is more pure than gold. The fertility of this soil was once a matter of wonder. The silt deposited from the rivers used to expedite the cultivation of crops. However, at present it is us who have polluted the soil and in turn have reduced its fertility. Chemical fertilisers are being used in the fields to produce more food for an ever-growing population across the country. And, excessive tilling has caused the land to become unfertile and lose its organic characteristics. The farmers don't know how much and what type of fertilisers to use for an optimum yield. Not much work has been done from the agricultural departments of the government in this matter. 
For the past few years, I have asked farmers whether they do soil tests or not. In reply, less than one percent of them have affirmed that they have done soil tests. The sad part is that there aren't even five percent of farmers who have heard of soil tests whereas these people should be the ones to already have the idea that organic materials are the life source of the soil. As they don't know this important information, they have kept using chemical fertilisers for a long period of time.
This has reduced the level of organic matters in the soil in most areas around the country. This is a great concern for the growing population. I am an optimist and I believe that like any other problem our farmers will come out of this. We just need the right initiative and its execution to resolve such problem. Those who are trying to come out of this crisis, I have featured them on Hridoye Mati O Manush's regular segment Grow Green which has inspired many farmers, entrepreneurs and the youth community. They have learned to understand that there is no other option than a technologically rich procedure of farming. There is no other option than to think about ensuring the good health of the soil first. The television shows have influenced youngsters who have undertaken endeavours to bring real change in the farming scenario. And the change had to start from correcting the soil.  
Dear readers, I want to tell you about an entrepreneur named Kamrul Hasan Ripon. This young man from Arani village of Rajshahi's Bagha upazila has taken a different approach. On one side he is encouraging farmers to do soil tests during farming and on the other hand, he is helping people out in using environment friendly fertilizer.
Few days back, after filming the Krishi Budget Krishoker Budget segment at Natore, I started for Rajshahi to see Ripon's project, Greenlight. On my way, my vision kept drifting to the crop fields by the road. This area is full of diversified crops now. The farmers are producing high yielding and cost effective fruits such as Dragon fruits, guava and malta. Moreover, they are growing foreign vegetables. Raw mangoes are hanging from the trees and let's not forget the moringa. This is the season for moringa and it is abundant, not only on the fields but also in the markets.
It was morning by the time we reached Arani village. Ripon was waiting for me. I learned from him how his project is going on. He told me how he got inspired to stick with farming, watching early 80s BTV farm-show, Mati O Manush. Since then he has kept his eyes on Channel i's Hridoye Mati O Manush. He has tried to comprehend and innovate something which will really cure the health of the soil and also increase production. Most importantly, his goal was to improve the livelihood of farmers. After completing his studies, he started a job and then started thinking about doing something himself.
He left his job in 2016 and started his own green enterprise and included other educated agro-enthusiasts from his region. Their combined efforts have resulted into 'Greenlight Soil Development Limited'. This enterprise is working to take ahead the organic development of the soil in their locality.
At present, their work has spread across eight upazilas of Rajshahi. He has organised various farming field discussions to let the farmers know about the benefits of organic farming. He is making the farmers understand that it is necessary to bring back the soil's health. He's going to farmer homes at villages across his region and telling the urgency of bringing back soil quality and how they can actually do it.
These young bunches test and prescribe proper fertilisers for the soil for quality food production at a cheap rate. Farmer Aminul Islam says that he has been farming guava for three years taking three bighas of land on lease. The first year, the harvest was good but the second year, the numbers were a bit down. Last year Ripon and his team went there and did soil tests and prescribed him to use organic fertiliser. After using organic fertiliser, this year the yield was really impressive. The best part of this is that his production cost has reduced and the size of the guavas has increased.
Previously, he used to get guavas, weighing 300 to 400 gram, and this year the weight of each has become 600 grams to one kilogram. I asked him how the production costs had decreased. He told me that Ripon's prescribed organic fertiliser reduced the usage of chemical fertilisers. The price is only Tk 600 per maund, far lesser than the TSP.
Another farmer Ataur Rahman told me that he spent Tk 3 lakh to farm guava on 4.5 bighas of land and has sold guavas worth Tk 10 lakh. It is because he has used organic fertilisers. That's why he's got such incredible profits this season.
Onion farmer Himel told me his story of making profits. He told me that after using organic fertiliser the use of chemical fertiliser is lessened and the amount of irrigation also reduced. Last year he had to spend Tk 35 thousand for farming onions over one bigha of land and had gotten 70 maunds of onions. This year due to usage of organic fertilisers his expense was Tk 22 thousand and in return he yielded 120 maunds of onion.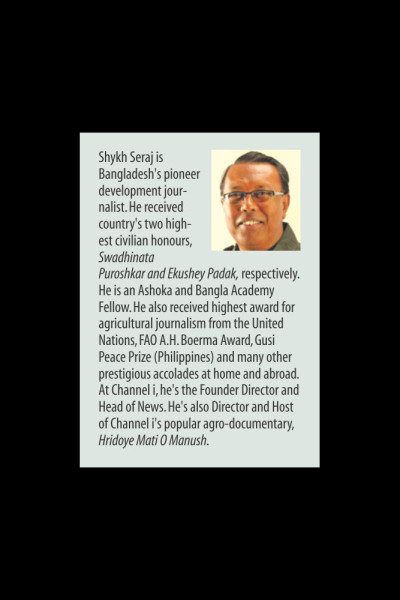 After talking to the farmers it was evident that they know that in order to increase quality and healthy production, regular soil tests are necessary along with ensuring the amount of organic materials in the soil. And this big change has been brought by Ripon and his team. However, the biggest challenge in front of these young entrepreneurs is keeping up with the finances. They said that if they had gotten the proper financial support they could have spread this even faster.
Educated young enthusiasts like Ripon will be the ones to take charge of farming in future and take the country ahead towards development and enrichment. The future farming is heading to the destination where it is accompanie\d by technology. Free market economy and adverse climate changes need to be tackled. And that is why endeavours of educated entrepreneurs like Ripon is more and more required. I have introduced many more such youngsters who are weaving new dreams. They have crossed many obstacles and have gone ahead. I believe that Ripon and his team will go very far with their dream. Every farmer will produce crops through soil tests and return the organic properties of the soil by using organic fertilisers. The soil will again have its fertility and the lands will be rich like gold as dreamt by Kazi Nazrul Islam.