Mobile application helps farmers practice farming in a modern way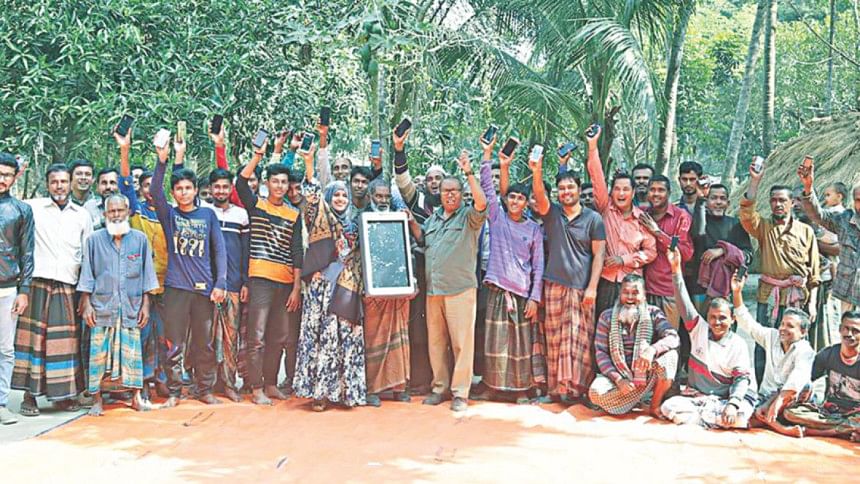 Farmers are the closest to nature. They try to understand the language of nature by using their age-old indigenous experience. Based on which they try to organise their farming strategy. It is not flawless though. Sometimes they lose everything to nature's hostility as they face the harsh and adverse impacts of climate change. Even then, fighting against nature, farmers manage to grow crops for survival. 
Once, we used to hear "Knowledge is power". Now, it is said "Information is Power". It is the same in the farming sector. With time, the pattern of agriculture is changing; the agriculture sector is prospering. Technology and new methods have made agriculture easy as well as increased production massively.
IoT (Internet of Things) and AI (Artificial Intelligence) meaning technology with artificial intelligence is changing the farming scenario across the world. It is gradually starting to stamp authority over Bangladeshi farming sector as well. I have shown the practice of app-based farming in many episodes of "Hridoye Mati O Manush".
In the developed world, farmers are enjoying the benefit of digital platform from crop production to marketing by app-based smart agriculture for a long time now. Even in our country, the government has developed some apps to let app-based agricultural services reach the doorstep of farmers. However, most of them are limited in providing information services. Field-level farmers are not aware of such apps either.
However, it is true that app-based smart farming has started its journey in our country. You probably would recall the episode on an app named "Digi Cow", country's first digital livestock management system. I also wrote an article on it for The Daily Star, which was published on January 24 this year.
Dr FH Ansarey, Managing Director and CEO of ACI Agribusiness, invited me over to his office a few days back. He wanted to show me their smart agriculture app. Through the coordination and analysis of ultramodern satellite imagery, advanced farming method, modern agriculture technology and weather-related information, this app will help farmers by providing overall information, he said. They have developed the platform in three years, starting from November, 2015.
Dr Ansarey says they had enlisted the app on Google Play. Not only that, they are also training farmers on how to use the app. I went to his office to learn more about the app.
This new app named "Fosholi", a public-private joint initiative, provides trustworthy and timely information to small-scale farmers, agricultural equipment traders and agriculture extension officers. Shamim Murad, leader of the app's development team, gave me a demonstration on how the app works.
Farmers can use the android app on smart phones to receive information services. I had a question. Would a farmer, who does not have a smart phone, be able to avail the services? Mr Ansarey said Fosholi is not only an app, it is a digital platform. Those who do not have smart phones, still can avail some of the services through SMS and by making phone calls from any phone. The main purpose of the app is to let diverse information and technology reach the farmers.
Farmers are getting training on the use of Fosholi in 12 districts all over the country. It is worth applauding. Every year in "Krishi Budget Krishoker Budget (KBKB)", an open dialogue session for farmers and policymakers, I ask farmers about information services. From 2018 survey by KBKB, I learned that only five percent of farmers go to digital centre for receiving information services and only two percent of them are aware of app-based services. Sadly, not even one percent of the farmers know how to receive information using an app.
I believe that training sessions will turn out to be very effective in this regard. At the same time, farmers will also become aware. I went to Jessore to see the training sessions for Fosholi. Farmers there are becoming more efficient through the training. I talked to some farmers at meetings held in front of their houses. They taught me how to use the Fosholi app. I loved learning it from them. Information gradually is empowering farmers and that was so great to see.   
I talked with the farmers working at the fields. They were really delighted. I wanted to know from them what benefits the app brings for them. They said the app helps them find out the most suitable crop for a particular soil type and the proper procedure to cultivate each crop. Crop disease is one of the worst problems farmers face. Farmers are always in need of crop specialists who would advise them in time of crisis relating to crop disease. Fosholi is also helping farmers in this regard.
Farming always depends on the weather. If farmers know about the weather conditions beforehand, it gets easier for them to take key decision. Fosholi also helps farmers by providing weather forecast, said young farmer Ilias. He also mentioned that the use of this app has lowered his production cost. By knowing beforehand that it is going to rain, farmers can get benefited financially by doing less irrigation.
I talked to another farmer named Babu. He said the best thing the app does is that it provides daily advice on what to do from the time of planting a crop till its harvest. This feature is available in the app under title 'Amar Foshol (my crop)'. For example, if BRRI 28 paddy is planted on December 16, then from that day till harvest, the app will give small notes on what to do on a daily basis. Farmers will get info on when to irrigate, when to use fertilizer or what fertilizer to use etc.    
Not only farmers, even officers at agriculture department are taking help of this app. I also spoke with local Sub-Assistant Agriculture Officer Asaduzzaman. He said there are almost 1,200 farmers in his work area. It is difficult to keep regular contact with everyone. It is easier to keep contact through this app. He stressed importance of making farmers more aware about such great innovations.
With time everything is changing and so is farming sector. Agriculture is becoming more and more modern with technological advancements. To go with the flow of development, we have to introduce farmers with new technologies with effective results. For such initiatives, public and private institutions will have to come forward. And through all these meaningful changes, the country will take another step forward towards achieving sustainable development goals.