Death toll from Keraniganj factory fire reaches 12
Hospital sources says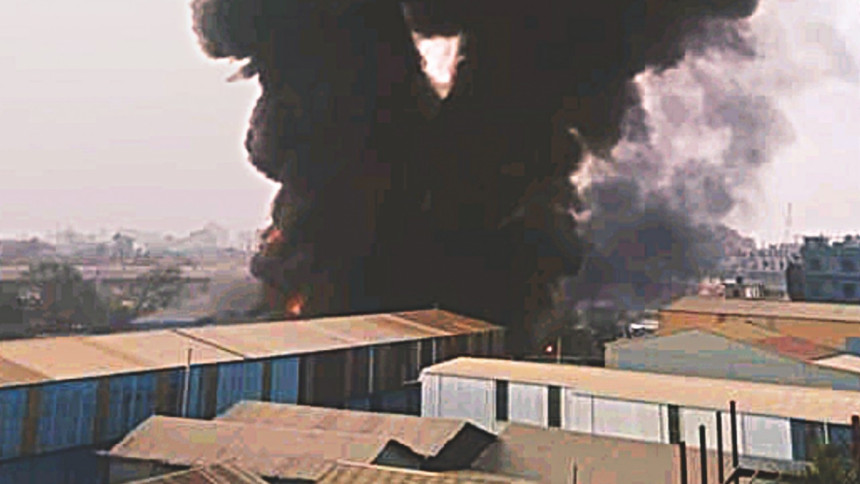 Eleven employees including an engineer, who were severely burnt in yesterday's factory fire in Keraniganj, died at Dhaka Medical College Hospital today, raising the death toll to 12.
Among the injured, 11 are on life support at Sheikh Hasina National Burn and Plastic Surgery Institute in Dhaka while eight others are undergoing treatment at DMCH, said Dr Nasir Uddin, assistant director of DMCH.
Those who succumbed today are the factory's Senior Engineer Salauddin, 32, son of Abdus Salam Miah from Tangail and workers Mahbubul Haque, 25, son of Gulzar from Pirgacha in Rangpur; Zinarul Silam, 32, son of Matlab Mollah from Shalikha of Magura; Md Imran, 18, son of Md Ansar Hawlader from Kolapara of Patuakhali; Rayhan, 16, son of Yusuf Biswas from Narail Sadar; Abdul Khalek, 35, son of Ibrahim Khalifa from Bakerganj of Barishal; Babul, 26, son of Tofazzal Hossain from Belabo of Narsingdi; Alom, 35, and Omar Faroque, 35, sons of Abdur Rashid from Sirajdikhan of Munshiganj, Sujan, 19, son of Khalil Hossain, Jahangir, 55, son of Nurul Islam of Keraniganj and Mehedi Hasan, 30, son of Ali Hosain.
Yesterday, at least one worker was killed and 33 others were severely burnt in the fire. Ten of them suffered 100 percent burns and the rest have burns in at least 20 percent of their bodies.
Of the injured, 10 workers died at the burn unit of the hospital between 2:00 am and 9:00 am, DMCH Resident Surgeon Dr Nabin told The Daily Star.
One of the injured workers Zakir Hossain, 22, said the fire broke out at a room where eight cylinders of inflammable gas were kept. He added that there was a leak in the lines.
Around 300 people worked in two shifts at Prime Patent Plastic Limited. Around 150 people, including many women, were working when the fire started, said Zakir, who has been working there for the last four years for a monthly salary of Tk 12,000.
 "We were trying to douse the fire using extinguishers and hosepipes inside the factory when we heard an explosion and there were flames all around us. Most of the workers got injured instantly," he told The Daily Star at the DMCH.
Police said the fire broke out around 4:15pm and engulfed the large tin shack quickly.
The factory used to manufacture single-use plastic glasses and plates.
After around one and a half hours of relentless effort, 10 fire engines from Fire Service Headquarters, Postagola and Keraniganj doused the fire around 6:10pm, officials said.