Impact of Covid-19: Jhalakathi lemon growers feel the pinch
The outbreak of novel coronavirus pandemic is the apparent cause for the situation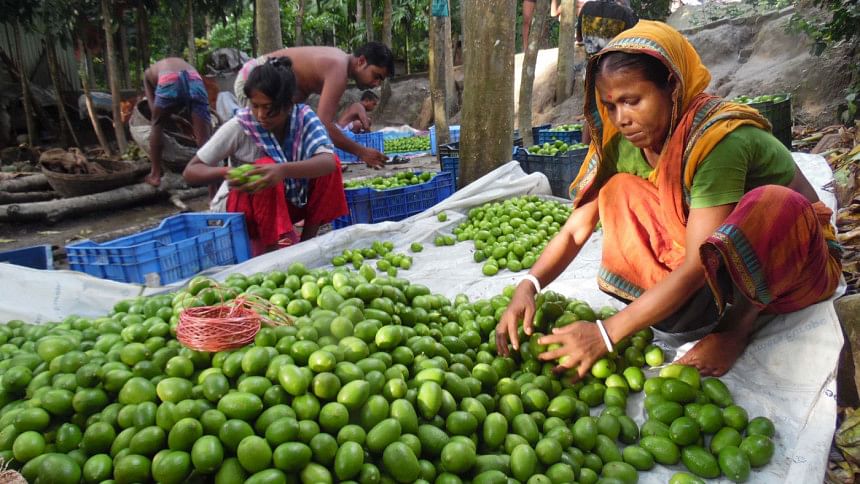 Despite high demand at retail markets where it is selling for good prices, lemon growers are failing to sell the produce at profitable rates due to a drop in the number of interested buyers at Bhimruli wholesale market in Jhalakathi Sadar.
The outbreak of novel coronavirus pandemic is the apparent cause for the situation, said local lemon growers and wholesalers.
Most of the lemon gardens in the area belong to women entrepreneurs and they depend on the earnings from sales of the fruit. The unexpected fall in prices this year has come as a terrible blow to their livelihood.
Hundreds of lemon famers in Jhalakathi are now worried whether they would be able to survive after incurring such losses during the ongoing lemon harvest season.
According to Department of Agricultural Extension (DAE) in Jhalakathi, lemon has been cultivated on 236 hectares of land in the district.
Fazlul Haque, deputy director of DAE in Jhalakathi, said rich in vitamins, different varieties of tasty lemons of Jhalakathi region are available all year round. But its peak harvest season starts in July and remains till September.  
It is high in demand in the cities, but its demand at local wholesale markets fell as only a few wholesalers are coming to local wholesale markets lately, he added.
Farmers said a good sized lemon usually sold for Tk 2 to 4 at wholesale markets, but now a similar size lemon is selling for only Tk 1 or 2.
Shikha Rani Halder, a lemon farmer in the area, said, "My earnings from sales used to be around Tk 1 lakh each season. But now it has been halved -- thanks to the shortage of wholesalers."
Shubhrojit Halder, a shopkeeper at Bhimruli market, said the market used to be swarmed with wholesalers in the morning when fresh lemons were brought in by growers. "Many of the wholesalers used to come to the market in large boats to buy the lemon, but now only a few boats turn up."
Explaining the situation, lemon wholesaler Sanjay said, "In contrast with normal times, I am now paying higher fare to transport lemon from here to Dhaka and also paying higher wages to workers."