Govt working to save farmers: Food Minister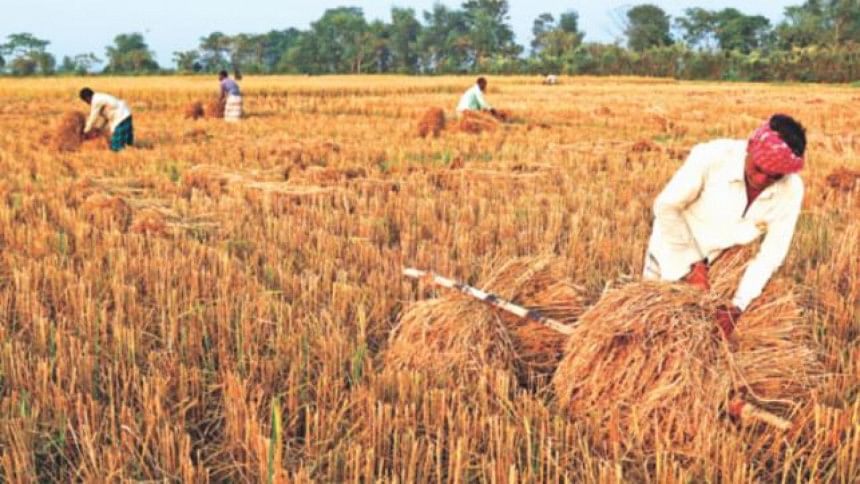 Food Minister Sadhan Chandra Majumder today said that the government is working to save all farmers of the country.
"Prime Minister Sheikh Hasina got popularity across the world for her outstanding activities. She prioritised young and new persons in Parliament to develop the country faster," he said at a seminar on "Righteous Sheikh Hasina, Various challenges and Universal message" at Jatiya Press Club.
Biswa Shanti O Manobadhikar Songha Bangladesh organised the seminar. Its President MA Mojid delivered the welcome speech and columnist Fonindra Sarker read out the keynote paper.
Farmers across the country have been hit hard by falling paddy prices. They are counting about Tk 300 loss per maund. The farmers have sought the government's intervention to raise paddy prices, saying that they would be forced to stop producing paddy if the situation does not change.
Prof Abul Barkat, a noted economist, on Saturday said that the price of paddy should be fixed at Tk 1,200 per maund so that the farmers do not have to count losses.
Minister Majumder told Sunday's seminar that the government is working to save farmers.
Former Dhaka University vice-chancellor AAMS Arefin Siddique said that everyone will have to work together to take Bangladesh forward.
Prof Abdul Mannan, former chairman of University Grants Commission, said that the international communities invite Sheikh Hasina to learn about Bangladesh's development.
"Bangladesh is now a role model of development thanks to the leadership of Sheikh Hasina," he said.