Press charge if AL leader works against narco drive
Minister Sadhan on law and order meet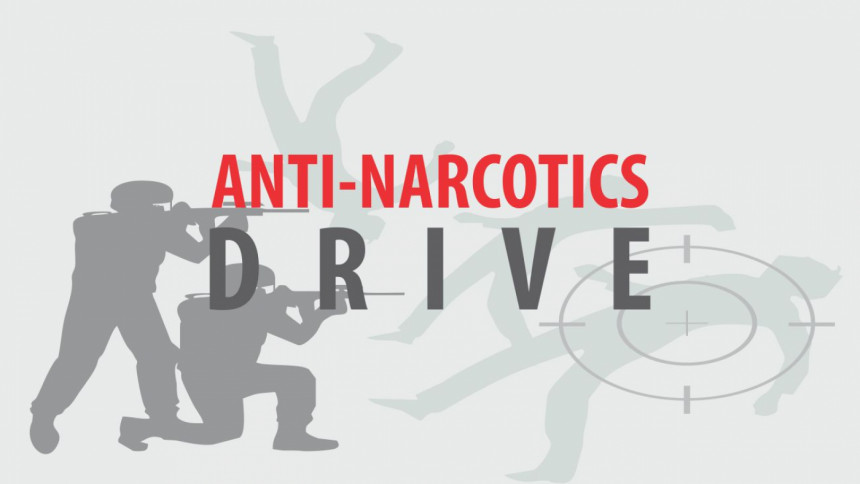 Charges should be pressed against any ruling party men who would lobby for not taking action against drug dealers, Food Minister Sadhan Chandra Majumder told a views-exchange meeting yesterday.
The meeting on law and order, drug smuggling and human trafficking in border areas was held at the Border Guard Bangladesh headquarters in the capital's Pilkhana.
"If any Awami League leader or supporter lobby against the anti-narcotics drive, include their names in the charge sheet. Then they will stop doing such things," the minister said.
Presided over by Home Minister Asaduzzaman Khan Kamal, the programme was attended by MPs and deputy commissioners from 32 bordering districts, the home secretary, inspector general of police, and director generals of Rab, narcotics department, BGB, and the Coast Guard.
The food minister also recommended ensuring quick trial of the narcotics cases.
"A narcotics case takes 10 to 12 year for disposal. Ensuring quick trial would...reduce the narcotics menace."
Addressing the police chief, he said competent officers should be placed in police stations near the border.
Sadhan also suggested launching anti drugs awareness campaign on social media and TV.
IGP Mohammad Javed Patwary suggested launching joint patrol by police, BGB and Coast Guard personnel in Cox's Bazar.
Home Minister Asaduzzaman said Nearly half of the inmates in jails were arrested in driugs cases.
"We have already enacted a narcotics law with a provision for capital punishment for yaba smuggling," he said.
"We do not produce any narcotics. All the narcotics are either coming from India or Myanmar."
He added that talks had been held with India about stopping the trafficking of Phensedyl.
About yaba trafficking, he said the BGB and narcotics department often held meetings with Myanmar officials to no avail.
Killings along Bangladesh-India border were also discussed at the meeting.
Asaduzzaman said, "Most of the killings are taking place as our people go too close to the Indian border or cut the fences."
The discussants also talked about the killing of three people allegedly by BGB men on February 12 in Thakurgaon's Baharampur.
At this, the home minister said the BGB personnel would not visit cattle sheds or markets in the country's bordering area from now on.
"Many people said the BGB men discharge their duties with over-enthusiasm. So we came up with this directive."
He added that the BGB would only do what they are supposed to do at the border.
The MPs proposed reducing the BGB's range of duty area at the border. Presently, the BGB men work up to 5km inside Bangladesh territory.
The home minister in response said the 5km range was in line with an international convention.
"We will solve the issue through discussion."