Foggy weather may persist till Thursday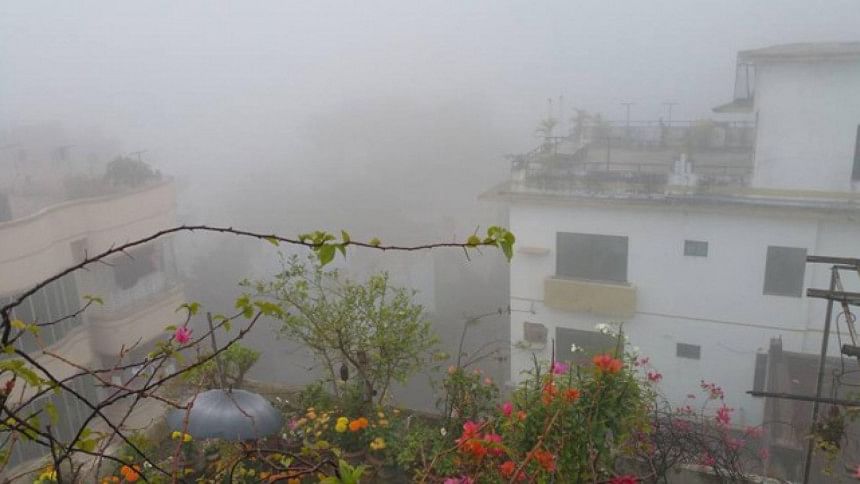 The foggy weather which has been around since this morning is likely to persist until Thursday, the Met Office said.
"The sun will likely remain invisible today while light rain or drizzle might occur at a few places," AKM Nazmul Haque, a meteorologist of Bangladesh Meteorological Department, told UNB.
He said the combination of water vapour and dry air from the northern parts of the country created foggy weather. "There's a possibility of light rain," Nazmul said.
According to the Met Office bulletin, light rain or drizzle is likely to occur at a few places over Rajshahi, Dhaka, Khulna, Barishal and Chattogram divisions and at one or two places over Rangpur, Mymensingh and Sylhet divisions.
Light to moderate fog may occur at places over the country during late night to morning.
Night and day temperature may remain nearly unchanged over the country, it said.
Country's lowest temperature was recorded at 9.1 Degrees Celsius in Panchagarh's Tentulia while the highest 26.5C was recorded in Kutubdia of Cox's Bazar.
Tetulia, the last border town in Bangladesh's north, is no stranger to extreme cold. On January 8, 2018, the mercury plummeted to 2.6 degrees Celsius, the lowest-ever recorded temperature in Bangladesh's history.
This season's lowest temperature was also recorded in the area when the mercury plummeted to 4.5C on December 29.
Various cold-related diseases affected 4,244 people across the country in the last 24 hours, the government said on Tuesday.
Official figures released by the government show that 437,082 people had been affected by cold-related diseases since November 1. During this period, 57 deaths were reported.