Flood situation improves in Bogura, Kurigram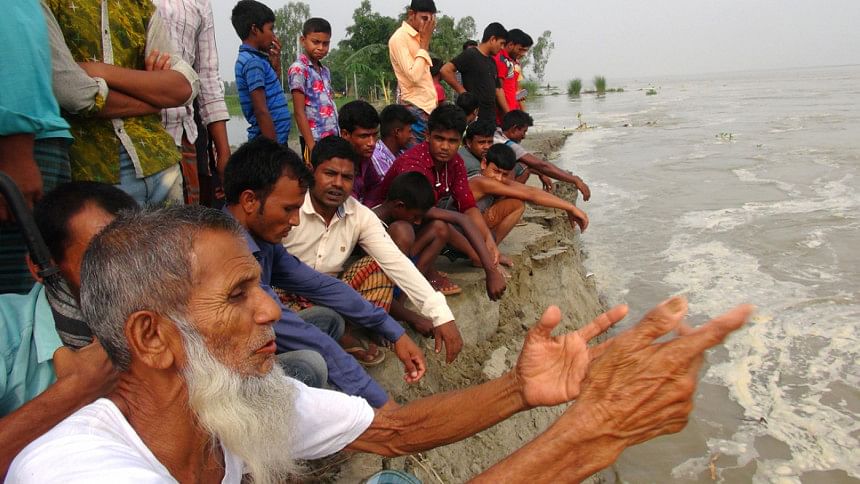 Flood situation in Bogura and Kurigram has improved as the water levels of different rivers started to go down from this morning.
The water at Mathurapara point of the Jamuna river was flowing 128cm above the danger level early in the morning, but the water level went down 2.5cm within the next three hours, said Hasan Mahmud, executive engineer of Water Development Board in Bogura.
"So, we can expect that the flood situation will only improve from this point onwards," he told our Bogura correspondent.
This year's flood has affected more than one lakh people in 129 villages in three upazilas of Bogura.
Meanwhile in Kurigram, flood situation has improved slightly, our local correspondent reports.
Within 24 hours, the water level of the Brahmaputra, Dudhkumar and Dharla rivers decreased 15cm at Chilmari point in Chilmari upazila, 12cm at Noonkhawa point and 18cm at Dharla Bridge point in Sadar upazila and 9cm at Kaunia point in Kaunia upazila of Rangpur, according to Kurigram Water Development Board (WDB) control room.
The District Relief and Rehabilitation Office (DRRO) sources said a total of 7,54,196 people of 1,88,549 families in Kurigram's nine upazilas have been marooned by the floodwater. Among them, 4,996 people of 1,249 families have lost their homes to the flood.
In Sirajganj, flood situation remained unchanged in last 24 hours as water of the Jamuna river flowing 100cm above danger level at the hard point, our Pabna correspondent reports.
Communication facilities were disrupted in low lying areas but road and rail communication in major areas remains normal, according to the DRRO in Sirajganj.
Hundreds of low lying areas beside the Jamuna river have went under flood water in Sirajganj, the DRRO said. More than 21,000 families were marooned due to the recent flood in the district.