Flood situation worsens in Lalmonirhat and Kurigram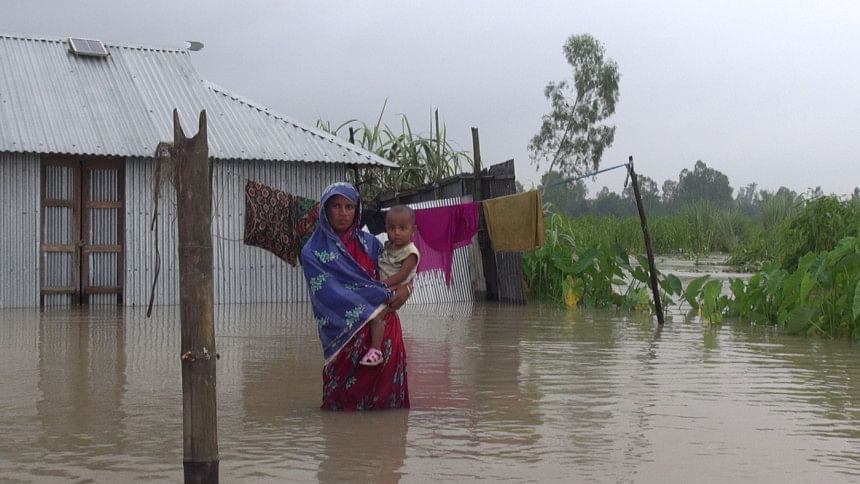 The flood situation in Lalmonirhat and Kurigram has deteriorated as the Brahmaputra, Teesta and Dharla rivers are all flowing above danger levels.
Over three lakh people in more than 300 chars in the two districts have been living in waterlogged conditions, our Lalmonirhat correspondent reports.
Meanwhile, the water level in Jamuna River in Sirajganj district is swelling rapidly and it may cross the danger level tomorrow, AKM Rafikul Islam, sub-divisional engineer of Sirajganj Water Development Board told our Pabna correspondent.
Some people have fled their homes and taken shelter at the flood centres, roads and embankments with their livestock and other necessities.
In Kurigram, the water level in Brahmaputra River has been flowing 10 cm above danger level at Chilmari point, five cm over at Nunkhawa Ghat point, 42 cm over at Kurigram Bridge point at Dharla River since this morning, said Ariful Islam, executive engineer of Kurigram Water Development Board (WDB).
The water in the rivers continued to rise following incessant rains and onrush water from upstream India, the official added.
In Lalmonirhat, water in the Teesta river rose 38 cm above the danger level at Teesta Barrage point in Hatibandha upazila last night, said Lalmonirhat WDB Sub-divisional Engineer Abdul Quader.
The water has been flowing 15 cm above the danger level at Shimulbari point in Lalmonirhat Sadar upazila since this morning, he added.
The water level in 10 rivers including Teesta and Dharla, the main rivers in Lalmonirhat, continued to rise due to the onrush water from upstream India, he said.
According to Lalmonirhat and Kurigram WDB sources, the water at Teesta and Dharla rivers has flooded about 110 villages in five upazilas of Lalmonirhat.
Meanwhile, around 250 villages in seven upazilas of Kurigram were flooded due to the water level, sources added.