Brickfield Beside Cultivable Lands
Emission of hot air damages Boro fields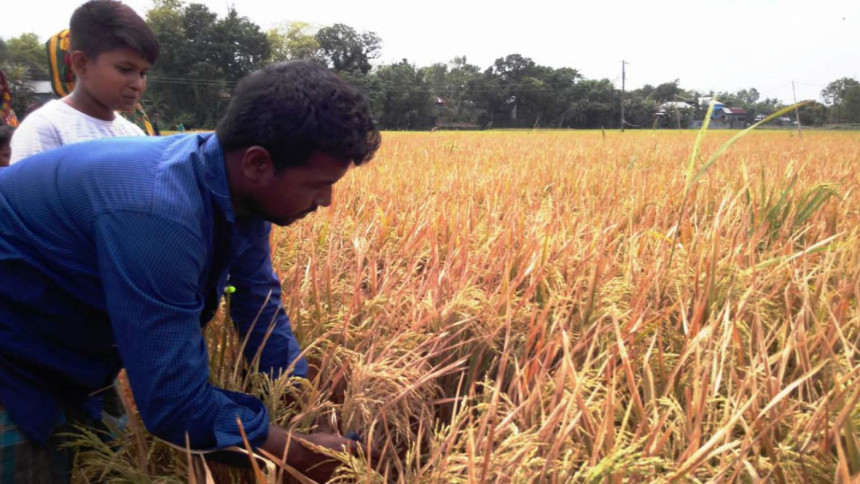 Standing Boro paddies on at least 16 acres of land were completely damaged due to the emission of excessive heat and hot air from a nearby brick kiln in Mirzapur upazila.
Abdur Rahim of Sohagpara village in the upazila and one of his relatives Rezaul Karim, a resident of Kodda area in Gazipur, started the brick kiln along a vast tract of cropland at Bohuria Purbopara village about a year ago.
Local farmers first noticed their damaged Boro field about a week ago, villagers said. 
Affected farmers alleged that the damage occurred due to emission of excessive heat and hot air from the burner of the brick kiln.
After completion of brick burning, labourers open the air pockets of the burner to cool it down, villagers said, adding that during the process hot air and ashes are emitted through the pockets and swiftly lashes through the nearby areas.
Several affected farmers including Tara Miah, Raham Ali, Karim Shikder and Thandu Miah said they were expecting a good yield due to favourable weather condition this season." 
Unfortunately, the damage occurred only two to three weeks before the harvest, they added. 
Mirzapur Upazila Agriculture Officer Moshiur Rahman said he sent a sub-assistant agriculture officer to the area to investigate the matter.
Sub-Assistant Agriculture Officer Tofayel Hossain, also the block supervisor, said he has visited the affected Boro fields and estimated of the damage.
Boro paddy on at least 16 acres of land worth around Tk 7 to Tk 8 lakh were completely damaged due to the heat and hot air released from the nearby brick kiln, he added. 
Abdur Rahim, one of the owners of the brick kiln, admitted the fact and assured the affected farmers of providing necessary compensation.
The amount will be fixed through discussions with the local union parishad chairman, agriculture officer and affected farmers, he added.
Contacted, Mirzapur Upazila Nirbahi Officer Abdul Malek said he did not receive any complaint yet.
He said steps will be taken against the brick kiln owners if he receives any complaint in this regard.