Country's largest seed farm faces erosion threat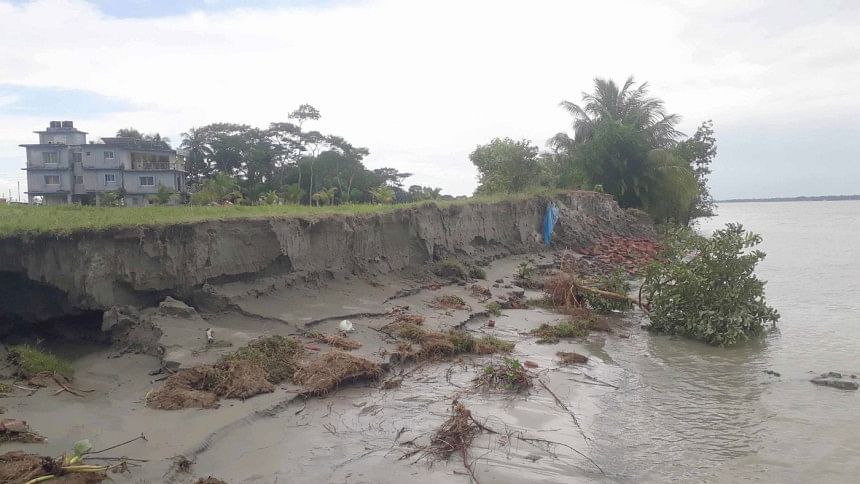 The country's largest seed production farm in Dashmina upazila is facing threat of erosion by the Tetulia river. About 258 acres of land of the seed farm have already been washed away by the river in the last three years.
If effective measures are not taken immediately to prevent the erosion, the entire farm may go into the river any time, said local farmers.
The farm was set up on 1,044.33 acres of land in Char Bashambaria area to supply different varieties of seeds to the farmers to make the southern region self-sufficient in food.
On March 19 in 2013, Prime Minister Sheikh Hasina inaugurated the Tk 250 crore, four-year project of agriculture ministry.
The farm authorities said under the project, farming was started in the farm with two tractors from the beginning with the aim of producing seeds of adverse tolerant species in the vast coastal districts, which was once known as a grain store.
The tenure of the project ended on June 30, 2017 and since then, the seed production farm has been operating under the supervision of Bangladesh Agriculture Development Corporation (BADC).
Later, office buildings, warehouses, covered threshing floors and sunning floors have been built and many tools have been purchased, but they are all under erosion threat.
During a recent visit to the seed production farm, this correspondent found that the river was devouring the west and north of the farm. Apart from this, the brick road in the farm has already been washed away by the river. Other important farm structures are under threat of erosion.
The seed production farm of Dashmina Upazila Land Office has lost 258.15 acres of land to the river.
The authorities said despite various adversities, the production of this farm is increasing every year.
According to the farm, 180.96 tonnes of Aman seeds and 229.36 tonnes of Boro and Robi crop seeds have been produced in the fiscal year 2014-2015 while 255.70 tonnes of Aman and 311.40 tonnes of Boro seeds were produced in the last fiscal year 2019-2020.
Earlier, wheat, potato, sunflower, lentil, mug, felon, soybean and sesame seeds were produced but due to high tide in the season, the production of these seeds is being severely hampered.
Sheikh Iqbal Ahmed, deputy director (DD) of Dashmina Seed Production Farm, said flood control embankment should be built to prevent the erosion.
They have already sent letters to the authorities concerned to take necessary steps to check the erosion here, said the DD.