Chalan Beel fishers cash in on dried fish prospect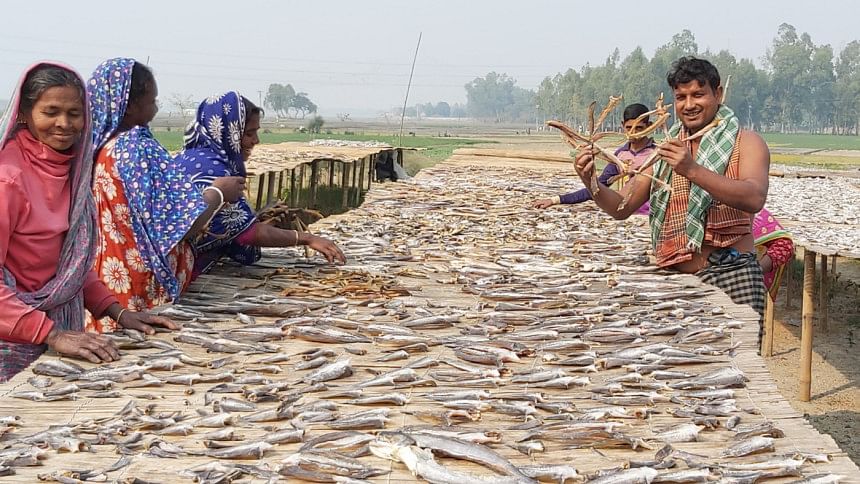 Despite good catches after a day's hard work, fishers in Natore's Chalan Beel region often had to dump the unsold fish. A little thinking outside the box has changed all that.
It made a difference when many of them started to make the best use of the unsold fish by turning those into shutki or dried fish -- a popular food item in different parts of the country.
Encouraged by its good demand, some of the locals also started getting in the business of drying fish.   
Shutki varieties made out of fish caught in Chalan Beel region are quite popular across the country for their taste and quality, said the locals.
Abdur Razzak, who used to struggle to make a living as a fisherman in Chalan Beel's Dahia area under Singra upazila, said, "After netting a huge amount of fish in the rainy season, there were days when a good amount of those had spoiled after going unsold at local markets."
"But now, we dry the fish in the sun and sell the shutki at good prices," the man said happily.    
Shaidul Islam, a local, is in the business of drying and trading of fish. He said the prime time for drying fish is between October and February. 
Dried fish is gaining popularity day by day all over the country and the dried fish from Chalan Beel is getting popular in India as well, he added.
A dried fish trader at Ningoin Shutkipolli in the upazila, Rashedul Islam Nayan, said dried fish prices vary between Tk 500 to Tk 1,200 for each kilogram -- based on its quality, the variety of fish and its size.  
The price of a kg of Shoil shutki now ranges from Tk 800 to Tk 1,200, Bowal from Tk 800 to Tk 1,000, Gunchi Tk 700, Loitka Tk 600, Kachki Tk 600, Sati Tk 500, Chingri Tk 500 and Chanda Tk 300, he also said.
After buying fish from the fishers, the fish is sliced up and covered in salt after its internal organs are disposed of, said local dried fish producer Abdus Salam, adding that salt is used to preserve the meat. 
Dried fish produced in Chalan Beel area is high in demand across the country, especially among the residents of Saidpur, Rangpur, Brahmanbaria, Sylhet and Kishoreganj, Salam said.
Ningoin resident Abdur Razzak said, "The dried fish of Chalan Beel are tastier than dried sea fish. I often buy shutki from Singra Shutkipolli because it's fresh, hygienic and processed right before our eyes."
While speaking with this correspondent, Jahangir Alam, fisheries officer in Natore, said, "We keep a close eye on the entire process to ensure that no harmful chemical is added [in the dried fish]."
He also said their dried fish production target of 317 tonnes, worth Tk 13 cores, might be exceeded this year.