Build resistance against militancy, terrorism: PM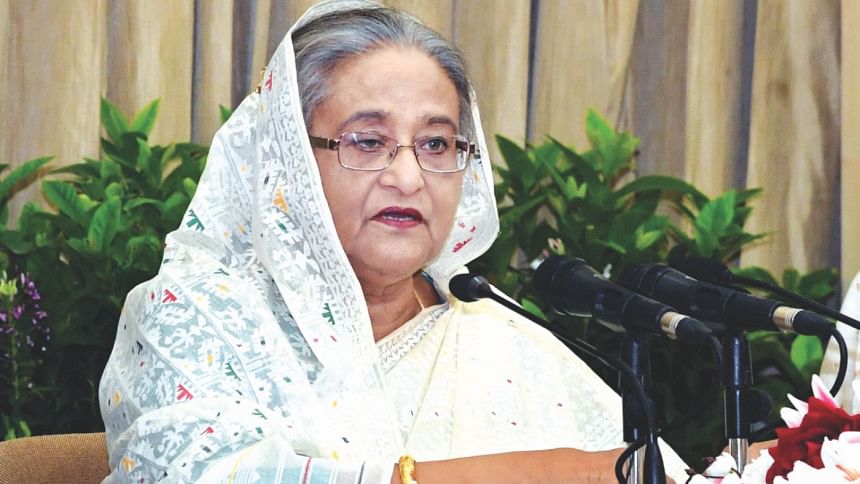 Describing militancy, terrorism, corruption and narcotics as wounds of society, Prime Minister Sheikh Hasina today called upon all to put up resistance unitedly against these menaces.
"Militancy, terrorism, corruption and drugs are wounds of society … many innocent people are giving lives due to militancy and terrorism and the country and society will have to be protected from these vices," she said.
The premier added: "So I urge all including parents, guardians, teachers, public representatives, ulema-mashaekh (religious scholars) and imam and muezzins to build up resistance in unison against militancy, terrorism and narcotics and create mass awareness against these social vices."
The prime minister was addressing the closing function of Bnagbandhu Inter-university Sports Championship-2019 at Bangabandhu National Stadium here this afternoon.
The Ministry of Youth and Sports organised the month-long competition where 3000 athletes of 65 public and private varsities took part in 10 events including football, cricket, badminton, table tennis, swimming, basketball, handball and athletics.
Highlighting various government steps for flourishing the merit and thinking of the youth, the prime minister said Father of the Nation Bangabandhu Sheikh Mujibur Rahman wanted to build a hunger and poverty-free Sonar Bangla.
"Bangabandhu wanted that country's youth community will be golden sons of building Sonar Bangla and to materialize his dream, we hope that youths will be established as golden sons and they will take the country forward," she said.
Sheikh Hasina said among these youths, one day prime ministers, ministers, lawmakers, teachers and sportspersons will be built. "We want to build them in this way from the primary to higher education," she said.