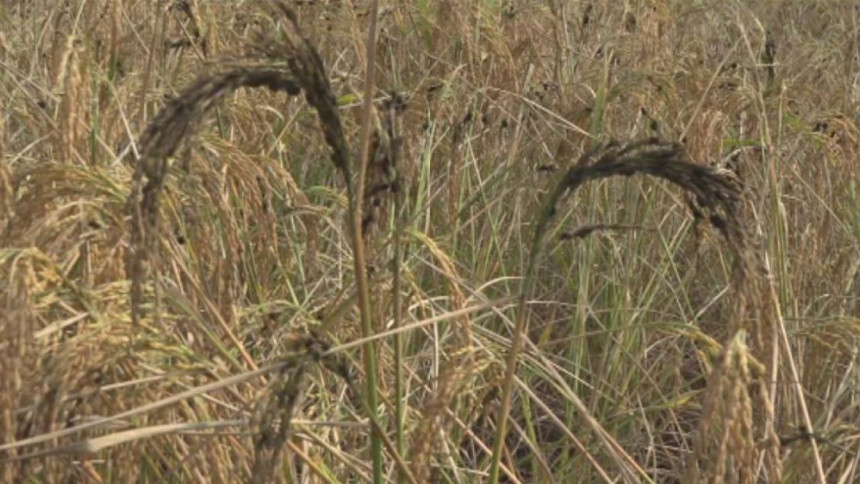 Farmers of char (coastal island) areas in Subornachar upazila are awaiting a bumper Aman crop but they are worried as viral disease has been destroying the paddy in the fields.
Fields covered with golden paddy should have made the farmers happy but instead they are worried about paying their debts and meeting the family expenses.
Farmers in various char areas including Char Panaullah, Char Rashid, Char Hasan and Char Jabbar in the upazila expressed their worries. 
They said the agriculture officials could not extend any help and solution to their problems.
Department of Agricultural Extension (DAE) sources said, the Aman production has been bumper in the current season in the district. This season Aman was planted on 1,53,670 hectares of land - under  both local variety and High Yielding Variety (HYV). The farmers in many areas have already started harvesting their ripe paddies.
Most of the landless peasants in the char areas are share croppers as they have no land of their own.  Viral diseases have spread to ripe paddies in the char areas. The sheafs of paddy are being damaged by black moss. The rice inside the paddy is turning into yellow powder.  The local agriculture officials could not provide any remedy to the disease.
Farmer Abdur Rahim of Char Panaullah and share cropper Lokman Hossain of Char Jabbar said cultivation of one acre of land including fertilizer, seed and labour, costs Tk 10,000.  They have taken loans from banks and NGOs to cultivate Aman paddy.  As this year, there was no natural disaster, the crop was very good and they were very happy.  But immediately before harvesting the crop, the paddy sheafs were destroyed by black moss created by a viral disease. As the farmers saw their produce being destroyed they have become worried for their future.  They demanded government assistance.
This correspondent  went to the office of the Deputy Director of the district DAE  Dr Md Abul Hossain twice but could not meet him and he refused to say anything  over the mobile phone about the  cause and spread of the viral disease.
He, however, said the damage to the crop could be more than compensated by the bumper harvest this season.